Introduction
You can learn many languages through online mode. Due to the pandemic, all sorts of changes are faced in good or bad ways. But learning in the form of audio and virtual is somewhat uplifting in this pandemic. You can learn many things from arts and craft to coding as well as language. Many platforms offer online classes for both adults and kids at an affordable rate. But choosing the best among these platforms is very difficult. You do not need to worry about the platform. I will be listing you  some of the best platforms for you to choose from. Before going through the names let's find out about the Kannada language.
Kannada language is also called and known by different names as Kanarese or Kannana. It is a member of the Dravidian language family and it is the official language of the state of Karnataka in Southern India. In 2008 the government of India granted Kannada classical language status. It is also the oldest among the four major Dravidian languages with a literary tradition. The oldest Kannada inscription was discovered at the small community of Halmidi and dates to about 450 CE.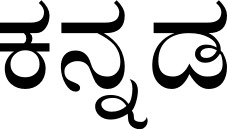 Here are the two platforms from which anyone can learn the Kannada language from Bangalore or anywhere from the globe-
1. MULTIBHASHI:-
 It is a Bangalore-based startup and is utilizing the power of the internet to help learners to learn new languages in their native languages. Multibhashi also provides various translation and transcription services along with creating content for various purposes in multiple languages. It is an android or web app for learning languages most effectively and effortlessly. The app also has audio-visual courses and quizzes where learners can learn different languages including the Kannada language. It offers self-paced learning that any learner can utilize in leisure or off-working hours, thereby making it a more viable and affordable solution to the learning process. Its interactive e-learning platform is based on the latest cloud technologies that ensure low latency and low data consumption which learners can easily access from any smartphone. This feature makes it a good solution for the masses of India. And one can start learning by visiting the website(classes.multibhashi.com). Not only languages, the platform offers arts and craft courses, spoken english of kids and adults and coding classes at an affordable fee. You can check its free demo class for more knowledge about how the platform offers classes to its students.
2. UDEMY:-
 It is an American massive open online course provider which aims at professionals, adults and students which was founded in May 2010. As of April 2021, the platform has more than 40 million students, 155,000 courses, and 70,000 instructors teaching a course in over 65 languages. The platform allows the instructors to build online courses on their preferred topics. It also has tools to make the students and learners more understandable by enabling power points, Zip files, audios, etc. Also, the instructor can have interaction and discussion with the learner through online mode. So, it is very useful for students who are willing to learn the Kannada language and another language as well. Also, learners can download the udemy app from the play store as well for better learning.
All the valuable knowledge has been listed above all you need to do is find the suitable course and go for it!