Easiest ways to Learn Arabic at the age of 18
By age 18, many teens are feeling a combination of excitement and fear about the future. There are a lot of decisions about life after graduation and 18-year-olds invest a lot of time into thinking about what type of life they want once they're on their own. The fear of the future—as well as the fear of failure—can still be problems, however. Some 18-year-olds will begin to resolve these issues successfully, while others will continue to struggle well into their adult lives.
Young adults who have plenty of life skills often feel ready to move out of the home and begin the next chapter. But those who experience a lot of self-doubts may regress a bit as they think about entering the next phase of their lives. It is a time for big changes that comes with a lot of freedom and happiness, along with feelings of nostalgia and apprehension.
Arabic that brings back childhood memories of fantasies, with Arabian Nights, Tales of Hatim, and Alaldin!
Today, I will be discussing ways 18 yo can learn Arabic in my blog today. So, I am writing with a fresh mind and a nice fresh cup of brewed coffee. Coffee is a 'mug of hope' that starts our day with a bang! I am sure you are wondering why am I talking about coffee, diverging from the topic I should be discussing! But no, let me reassure you I have not lost my mind! It's just that, today brings me an opportunity to thank Yemen for introducing Coffee to the world which goes as far as the 9th century. That's how beautifully and intangibly Arabic culture is involved in our daily lives. Now, let's begin with a few tips you could follow to learn the Arabic language as a Young Adult.
Define clearly the purpose of learning the Arabic Language for yourself
Learning a foreign language always adds a feather in our cap. However, it is imperative to ask yourself the purpose of choosing that language, whether it is leisure or work. If you are planning to start with Arabic in the early age of 18, then let us be clear that 'self-learning' is not an option. Local colleges sometimes take as long as six weeks to help you grasping the language thoroughly. Arabic is one of those languages where the dialect and nuances change depending on the region you are planning to visit or settle-down.
Start with the creative and artistic Arabic alphabets
Arabic is foreign to English in every sense of the term. It is written from right to left. It contains certain sounds that don't exist in English or in any other language. The book that most colleges follow to learn alphabets thoroughly is 'Alif Baa' and additionally, it would be a great idea to catch hold of a dictionary. You could use your college or school id to gain access to good libraries to enhance your knowledge by reading books.
Read aloud to correct your pronunciation
Most of the knowledge of classical Arabic comes from their holy book 'Quran-e- sharif '. The word 'Arab' means 'the land of Nomads' and as I read it, I got nostalgic with my memories of my childhood:- the extraordinary mysteries of 'Aladdin', 'The stories of Arabian Nights', 'Alibaba and 40 thieves' and so on and so forth. So once you get a grasp of letters and words, without feeling awkward or ashamed go take your pick at the kid's section of the Arabic library.  Pick these and more children's books titles continue reading loudly.
Look for a great trainer to learn thoroughly
As mentioned previously, Arabic is one of those languages where self-learning is difficult. Ideally, it would be great to speak with a friend who is a native speaker as well. However, if you don't have that luxury, you can invest in a good trainer. Since Arabic changes its dialect and nuances depending on region hence a trainer can arm us with basic greeting techniques, which can put our daily lives at ease. Do take admission in a good college or university. If not that option chooses for an online course, but do choose one.
Do remember to credit your efforts with a little fun factor too!
When we are happy, we learn quickly. Bollywood has a great market in the Middle-east. And it is proved by the fact that Shahrukh Khan has citizenship in Dubai. Sounds interesting.Thanks to social media, where we can easily watch any Hindi movie in Arabic. Such convenience and fun! At 18, teens are judgmental and have a limited selective attention span. But stay assured, you have no chance of getting bored. For learning purposes, you may sit with a dictionary and immediately pause on the word or the expression that you couldn't grasp. It's a great tool to enhance your vocabulary. That's entertainment with studies.
Watch out for free online learning. There's always a catch to it!
Arabic's beautiful 'alphabet' is not an alphabet at all, at least not in the phonetic sense of the term, that we have learnt so far. Each symbol stands for a consonant, with accents providing a vowel sound. Instead of capital letters, the emphasis is created through the use of quotation marks. Why I gave such a complex explanation is because when we learn Arabic, we must stop ourselves completely from connecting it with English in the minutest way. Hence it would be essential to do proper research and beware of the fake sites, as we being 'misguided' by the Arabic letters should be the last thing on our list!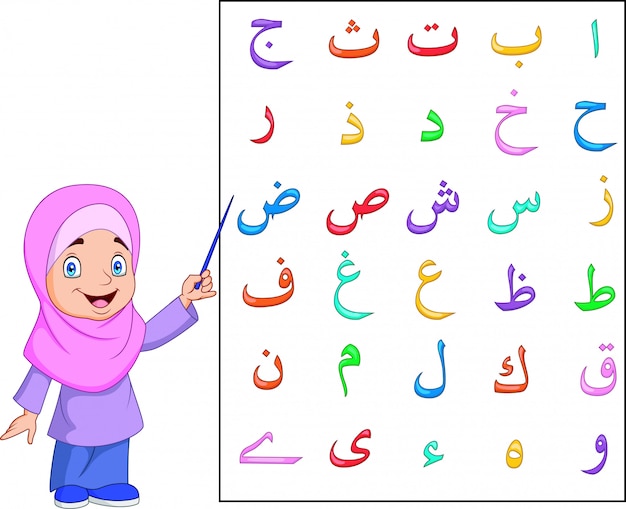 Finally, be respectful of learning one of the oldest languages of the world
The Arabic language has great influence over European culture, music and Arts. It is spoken widely in almost 25 countries and still growing. Hence it's not only a language but a gamut of lifestyle that is waiting for you to embrace. Learn it with utmost sincerity and respect.