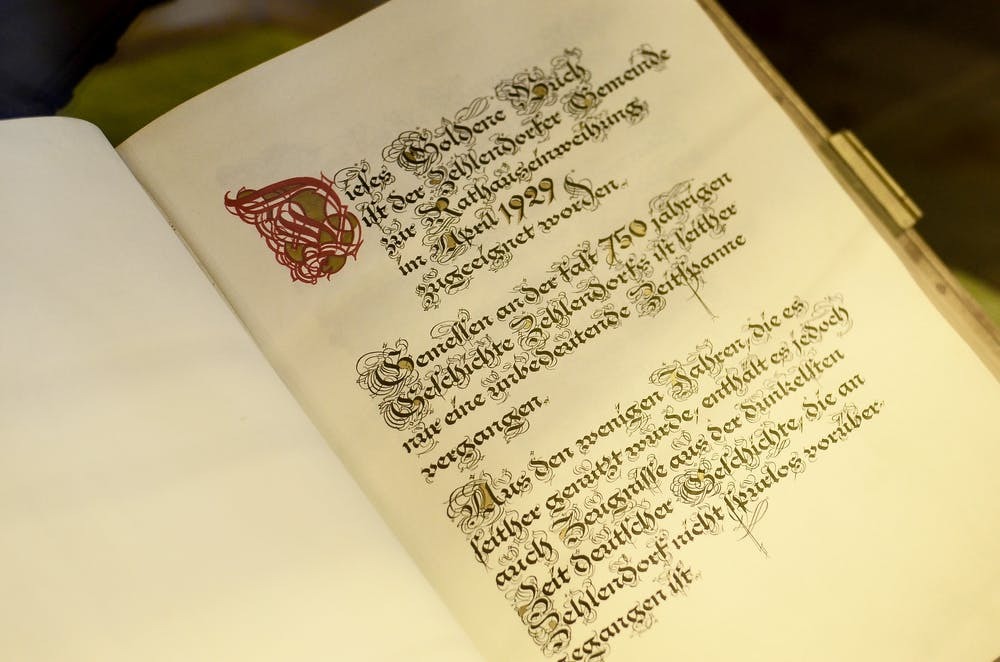 The German language is a West Germanic language mainly spoken in Central Europe. It is the most widely spoken and official or co-official language in Germany, Austria, Switzerland, Liechtenstein, and the Italian province of South Tyrol. It is also a co-official language of Luxembourg, Belgium and parts of southwestern Poland, as well as a national language in Namibia. German is most similar to other languages within the West Germanic language branch, including Afrikaans, Dutch, English, the Frisian languages, Low German (Low Saxon), Luxembourgish, Scots, and Yiddish. 
German is also widely taught as a foreign language, especially in Europe, where it is the third-most taught foreign language after English and German, and the United States. The language has been influential in the fields of science and technology, where it is the second most commonly used scientific language and among the most widely used languages on websites. English and German share 60% of their vocabulary. Due to their close relation, German and English share more than half of their vocabulary!  
How long does it take to learn German?
There's no doubt that learning German is definitely worth it, but the truth is that our busy lives leave little time to learn a language.
According to the FSI, the closer a language is to your native language, the faster you will learn that language. They divided their findings into five basic language groups based on the languages' similarity to English, which determined how long it took learners to reach general professional proficiency or higher.
The FSI classifies German as a language similar to English. Getting to an upper-intermediate fluency level, therefore, requires 30 weeks (750 hours) of training.
Well, you must be thinking about how to learn German well in the shortest time? Here I am giving the top six steps to learn it faster. 
Step 1: Find Your "Big Why" for Learning German
Even before you think about which materials to study, or your method for learning German, you need to take a step back and understand your underlying reason for wanting to speak German.

This is your Big Why. 

Here are some reasons for learning German that could be your "Big Why":

To have conversations with German-speaking family members, or to teach your kids German

To find a job in a German company (Germany is one of the biggest economies in the world)

To speak with natives as you travel in the heart of Europe

To read the classics of German literature (think Johann Wolfgang von Goethe, Herman Hesse, and Franz Kafka)

To enjoy German TV shows

To get an inside view of German culture

Find your "Big Why" and you'll discover that learning German becomes a challenge you'll love.
Step 2: Create a Mini-Germany in Your Home
You don't need to live in Germany to immerse yourself in the German language. There are many ways to plunge yourself headfirst into German wherever you live.

Here are a few of my top ways to bring Germany to your hometown:

Make your computer multilingual. Why not turn your computer into a German-only system?

Find the German speakers in your city. Believe it or not, there are many communities of German speakers around the world. You may be near one and not even realize it!

Watch German television and movies. Force yourself to focus by watching without subtitles.

Read articles and books in German.  

Listen to German music and podcasts.  
Step 3: Use Language Hacks to Learn German Fast
Language hacks are shortcuts that help you learn a language faster.
Use Spaced Repetition Systems (SRS). SRS is a great method for memorizing vocabulary and phrases. It's probably the most effective hack you can use to pick up new vocabulary.

Use mnemonics. Mnemonics help you create associations to easily recall German words.  

Focus your study with the Pomodoro Technique. This technique allows you to break up your study sessions into smaller chunks of time resulting in better focus and a more effective learning experience.
Step 4: Use "Conversational Connectors" – How Beginners Can Get their Flow
Like most languages, German uses a set of call and response phrases that I call conversational connectors. These are crucial to everyday conversations, but they aren't usually found in phrasebooks.
They're a great technique for sounding more like a native speaker, for removing the awkwardness from conversations, and for giving yourself time to recall vocabulary.
Conversational connectors are extremely helpful because you can use them in a variety of situations such as agreeing with someone, sharing your opinion, or changing the subject.
Step 5: Find Native Speakers and Speak from Day One
This Speak from Day One approach is the fastest and most efficient way to learn German – especially if you speak with native German speakers.
No matter where you live you can still find people, either online or offline, to speak with in German. 
The best way to begin speaking from day one is simply learning how to say "hi"! A few German greetings you can use:
"Hello" – Hallo

"Good day" – Guten tag

"How are you?" – Wie geht es dir?
Step 6: Focus on the Easy Parts of German
German is an easy language to learn because it has:
No tones, as there are in Chinese or Thai

No liaisons between words, as there are in German

Many of the same letters as English, unlike Japanese or Korean

No postposition or preposition suffixes, like in Hungarian or Turkish

No strings of difficult-to-pronounce consonants like in Czech.
Plus, German is a phonetic language. This means that (with very few exceptions) you know exactly how to pronounce a word when you see it spelled. Likewise, when you hear a word you can almost always write it out.
On top of that, many parts of German grammar are the same as English since they are both parts of the Germanic family of languages.  
Step 7: Practice out loud -
Always practice out loud. Thinking about the words is not enough and whispering them under your breath won't cut it. When you practice, make sure you speak out in a big, confident voice. There's something special about speaking German aloud that helps fix words and sentences in your long-term memory. It's like learning to play music. You can't learn a piece by memorizing the notes on the page and imagining the tune. But by playing the notes in sequence over and over again, they quickly become second nature and you no longer need to think about what you're doing.
Step 8: Commit to consistency -
Think of learning a language like a workout regimen. Consistency is key. A 20-minute jog every day is better than a three-hour cardio session every two weeks. The same goes for learning  German. You have to pace yourself and break things up into manageable chunks so you don't burn yourself out. You also have to keep up that regular practice so you don't lose what you studied the day before.
If you follow the above steps I am sure you are going to learn well in the shortest period of time. Apart from these, You can also take the help of many online platforms, websites, and apps. Everyone who has ever learned to speak German was once a beginner in the language. They all managed to learn to speak German fluently, and so you can. You just need to use your German as much as you can. Spend as much time immersed in German as you can. And, most importantly, believe in yourself.
Become a Confident German Speaker, Fast
All the best!!!