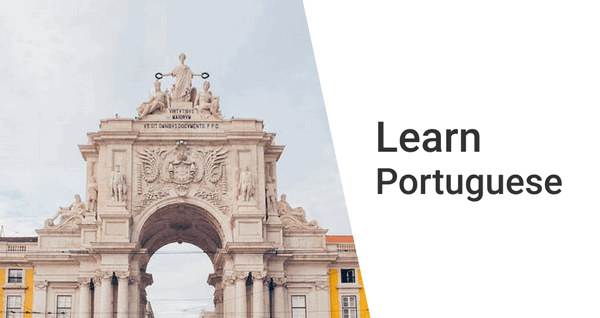 The official language of Brazil is Portuguese. In fact, it's one of the top ten widely spoken languages on the planet. It has 200 million speakers across Europe, Africa, Oceania, Asia, and South America. Hence, learning the Portuguese language is the gateway to a more rewarding and convenient traveling experience in at least 10 countries. It is considered that it is easier for an English speaker to learn Portuguese. Along with English, French, and Spanish, it belongs to the Romance family of languages, so you'll be able to pick up its patterns in no time due to a great number of similarities. 
If you are wondering how to speak Portuguese in different regions, then you must know that Brazil and Portugal are the two most influential countries because it's where the Portuguese language is spoken the most. On one hand, Portugal is the homeland of the language, whereas Brazil has the biggest number of native speakers. Though both these countries speak the same language, there are many regional variations in both spoken and written forms. Considering the fact that the regional differences in Portuguese are stronger than in many other languages, it's a good thing to learn more about each of the dialects before you go ahead. The Portuguese people tend to speak with their mouths more closed, whereas Brazilians tend to speak with their mouths more open. Therefore, it can be said that the Brazilian accent is more articulate and can be easier to understand for a Portuguese beginner. However, for every language learner, achieving fluency depends on their motivation, persistence, and time invested in the effort. To help you achieve your language goals, here is a step-by-step guide.
13 steps to learn Portuguese-
Step 1: If you have decided to learn Portuguese by yourself then you need to do research first and prepare and get specific with your goals. As self-directed learning requires preparation. That is why your first step will be entirely dedicated to planning the approach you're going to take to your Portuguese studies. You need to read about the language. Take a look at the different dialects out there and decide which is going to be the most useful for you to concentrate on. Brazilian Portuguese tends to be favored and popular among learners because it's easier to grasp compared to European Portuguese. Accessibility of resources is also something you have to research. 
Step 2: Make a schedule for yourself daily to learn the language. Your success in learning a language depends on how much time you can allocate to it. While you can learn basic conversational fluency relatively faster, gaining more in-depth proficiency might take a long time. To learn Portuguese faster you need to remain consistent and allocate at least 1-2 hours of study time daily. 
Step 3: As an absolute Portuguese beginner, it's essential to cover basic Portuguese words and phrases such as greetings, days of the week, months, numbers, and question words. Learn basic grammar. Additionally, keep a vocabulary of popular Portuguese phrases divided by topics like weather, time, greetings, and so on.
Step 4: When you are learning Spanish by yourself, take the support of online tools like Duolingo, Babbel, Memrise, etc. from these resources you will be able to learn basic Portuguese. 
Step 5: Start talking and writing as early as possible, because you'll get a much-needed confidence boost to energize your future learning. you'll understand just how different the language can sound when spoken by natives in comparison to grammar manuals. You will immediately make connections with trustworthy persons who can help you with questions about slang, word choice, and grammar! Writing will also play a huge part in your development. 
Step 6: You need to practice listening to Podcasts and Radio Stations. RTP Play (European Portuguese), Conta-me Tudo (European Portuguese), Practice Portuguese (European Portuguese), Rádio Comercial (European), Jovem Pan Online (Brazilian), Antena 1 (Brazilian), PortuguesePod101 (Brazilian), Podcast Café Brasil (Brazilian) are the names of some Portuguese radio and tv stations that will help you to learn the language in a better way. 
Step 7: Take the help of the dictionary to learn the language. t's essential to consult with a dictionary whenever you come across unknown Portuguese phrases or words. Try an online dictionary if you find carrying a hard copy inconvenient.
Step 8: Watch Portuguese videos. Netflix has Brazilian and Portuguese movies you can watch with English or Portuguese subtitles. Also, Youtube provides numerous channels for beginners and intermediate learners. Watching Portuguese videos will help you pick up conversational cues really fast.
Step 9: Find native Portuguese speakers online and start speaking with them. Speaking with native speaker of the language. This will help you increase your vocabulary and learn the language better. Find a language partner.
Step 10: Make Portuguese books your new best friends. Books are essential language-learning resources if you plan on boosting your Portuguese. They help you to expand your vocabulary on more specific topics. Listen to Portuguese audiobooks for better experience and learning.
Step 11: Practice a lot. The most essential thing that will help you to learn any language faster is Practice. The more you will practice, the better you will learn. Practice is the key to ultimate success.
Step 12: Engross yourself in the language. Start thinking in Portuguese. Whatever you do try to add Portuguese in that.  You can even set the language of your electronic gadgets like mobile, computer, or laptop to Portuguese. 
Step 13: Register for an online class for the Portuguese language for more organized and better learning. 
Conclusion:
In case of any setbacks don't lose hope. Stay committed, dedicated and steady, and on the track. Your motivation is the important criteria for learning the language. Keep on repeating and practicing. Relax and give yourself some time to settle down with the new language. Always try to remember that being slow does not matter, only the steady person will reach the ultimate goal in the required time. Best wishes!