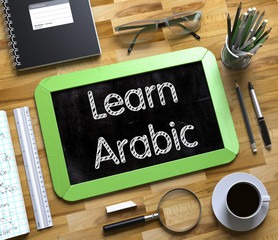 Introduction:
Arabic is one of the oldest languages in the world. It is mostly spoken in Arabic countries. It is the native language of approximately 310 million people. Arabic is the language of the Holy Quran. Therefore it is considered the holy language. Therefore it is a must to understand the Holy Quran. On the other hand, Arabic countries are full of career opportunities. Learning Arabic is a must for making a career there. India is near to the UAE. Many people go and grab the best career opportunities there. In this case, many Indians need Arabic Language guidance. 
Secondly, Covid-19 has changed the way of living everywhere. People are preferring learning and working from home. They are searching for learning solutions that are available at home.
The only available solution is learning online!

Yes! It is possible to learn online as there are many resources available on the internet. You can go through either of the following two ways:
Learning on your own:
This method is more hectic as it involves a lot of searching for material, audio, videos, expert guidance, and learning tricks. 
All the above steps involve a lot of hard work and time dedication. But the profit is that you work hard and so you can learn in-depth. You may find it time-consuming but it helps you enhance your searching skills. Following are the key materials to learn Arabic on your own:
Dictionaries:

Dictionaries are books that help you in translating the words in one language from another. Search for some online dictionaries that can translate the words of your language into Arabic. Pronunciations of the words are available with the words. Listen to them and try speaking. 

Learn some basic words from here. Start speaking these small words in your daily life. Now, gradually move towards complex phrases and sentences.

Books: 

After learning some basic common words, now it is time to search from some books having simple language. 

Audios:

Listening to audio gives you an idea about the pronunciation in daily life. The more you listen the more you become habitual of the language. 

Video: 

Watching videos in the Arabic language can help you with the tones and articulation of the speech organs. 

Movies: 

Watch Arabic Movies that have subtitles in Arabic as well as your mother tongue. Reading and listening simultaneously help in speeding up your language.

Conversation:

This is the last step for you to work on. Conversion practice is the best for those who want to learn the language professionally. This practice gives them real-life experience and the idea about the challenges they may face.
On the other hand, if you want to learn under the guidance of an expert then you may enroll yourself in one of the best online institutions. You can opt for the Arabic course at Multibhashi also. Multibhashi is one of the best online institutions that offer courses in, many languages including Arabic. 
Finally,
After reading this article, I hope you must have some new ideas and ways of learning to improve your Arabic language. However, learning a language is a challenge at some point but it is 'You' who is going to make it happen. Don't forget to stick to your first decision about why you wanted to learn Arabic. Hard work and perseverance through your learning journey will help you achieve your goal.