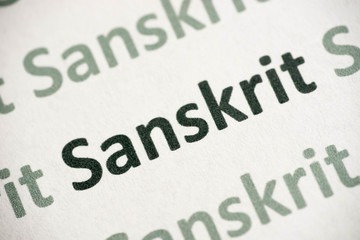 Introduction:
Sanskrit is a beautiful language where we can learn to find our inner peace and be with the almighty God sub-consciously. Have you ever thought about what the word Sanskrit actually means? Here is what it means if you haven't known about it. The meaning of the word "Sanskrit" is "Complete". It is a beautiful, mesmerizing yet powerful, resonating language that has a definite organized structure and a rich texture, not many modern languages possess. Sanskrit is the oldest and the most continually used language in the world, certainly since the second millennium BC. Sanskrit is regarded as the ancient language in Hinduism, where it was used as a means of communication and dialogue by the Hindu Celestial Gods, and then by the Indo-Aryans. It is also widely used in Jainism, Buddhism, and Sikhism. This language is the mother of all languages. It offers an expansive view of human nature and its role in creation. Sanskrit is a standardized dialect of Old Indo-Aryan, originating as Vedic Sanskrit as early as 1700-1200 BCE. There are many benefits which you can get from learning the Sanskrit language as it offers an expansive view of human nature and its role in creation.
Tips to learn Sanskrit at home:
Focus on your reason why you want to learn the Sanskrit language before anything. Yes, there should be a good reason why you want to learn the language, it can be your work-related, scholarship or your own interest as this will not only make you learn the language but will keep you motivated when you feel that you cannot continue learning and waste your time, money & effort when you are halfway there. Anything to boost your interest in learning the Sanskrit language is what you have to do at the very first step

It is very important to have thorough knowledge about the place and its history. Remember that knowing the culture is very essential when studying languages because understanding cultural background–art, literature, lifestyle will help you reach language proficiency and really live the language while you learn.

A student must not forget to keep a notebook where he/she can jot down what has been covered, translated words, and practice writing so that they can check the notebook to keep them reminded about how they are coping up with the language and how far they have come.

Learning the grammar and alphabet may be difficult but it is not impossible if you put on a little more effort than you should help you learn the Sanskrit language in a proper way. Basic grammar will be enough at the beginner's stage. 

Practice with patience, give more time to practice verbal and written. Buy yourself a beginner Sanskrit guidebook to help you catch up with your understanding. Practicing maximum of 3-4 hours a day to speak, understand and improve the Sanskrit language is mandatory.

Making mistakes is absolutely normal but try to learn from the mistakes. Focus on the weak part of your study.

Learners can easily learn Sanskrit at home in India and at their flexible timings with

Multibhashi

and they can grasp the language quickly and be able to use it in your day-to-day situations in just a few days after you start taking the sessions.  
Finally,
There's no stopping you from learning the Sanskrit language when you actually have a strong reason to learn the language. It will only get better and better if you practice daily. Always remember that practice makes a man perfect!