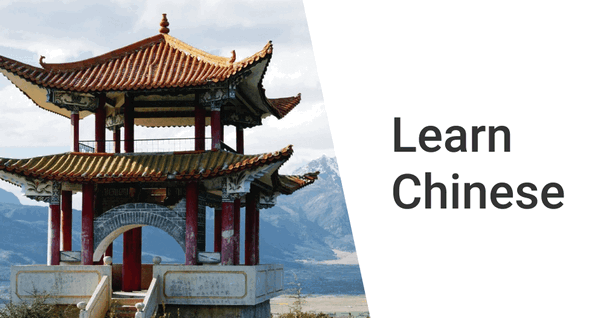 Introduction:
Chinese is a group of language varieties that form the Sinitic branch of the Sino-Tibetan languages, spoken by the ethnic group of Han Chinese majority and many ethnic minorities groups in Greater China. About 1.3 billion people speak a variety of Chinese as their first language. It is a super language with many dialects. Cantonese, for instance, is a dialect of Chinese. In mainland China, for people speaking different dialects to understand and communicate with each other, a standard and official language were created based on Beijing dialect which is known as the "Mandarin" Chinese. This particular dialect is widely spoken not only in China, other countries like Malaysia, Singapore, and Indonesia, which use mandarin as an everyday language. Statistics show that 14% of the world population are native mandarin speakers, which makes mandarin the most spoken native language in the world. 
There are many institutions and online platforms where any new learners can start learning the Chinese language. Below we will be discussing some of these so that a person or individual will be able to speak and write the Chinese language.
Platforms where you can learn Chinese language:
MULTIBHASHI
Luckily, with the advent of the internet era, with everything else, learning a new language has also become somewhat easier. Now teachers and students can come together virtually allowing flexibility of learning at one's pace and time. Multibhashi, a Bangalore-based startup is utilizing the power of the internet to help learners learn new languages through one's native language. Besides serving as a platform for learning languages, it also provides various translation and transcription services along with creating content for various purposes in multiple languages. 
URBANPRO
With the huge changes brought by the internet today, there are numerous coaching classes online which offer the best Chinese language learning platform to its aspirants. However, the applicants need to pick the right training centers to enroll which will allow them to master the language of Chinese. URBANPRO- India's leading educational marketplace provides Chinese language classes in various cities of India. Any aspirant can take up Chinese learning classes online in cities like Delhi, Bangalore, Mumbai, Pune, Chennai, Hyderabad, Kolkata, Gurgaon, Ahmadabad, and Ghaziabad. One can check the reviews and ratings of the Chinese language classes and online tutors from this platform. Now, the company has made it easier by providing reviews and ratings for tutors as well. Also, aspirants can find out the fee structure from the URBANPRO platform as well. For further details, aspirants can visit its website(www.urbanpro.com)
UDEMY
The platform provides special online classes for Chinese language in a very comprehensive way. Through which aspirants will be able to have a basic conversation in Chinese and learn how to write characters. Also, they have given various exemptions in the fee structure 
for promoting the aspirants in learning the language. They provide the below features in the course
To make the basics of the Chinese language understand properly 

Learning basic conversations like how to introduce in the Chinese language

Practice the right pronunciation 

Explore Chinese history, literature, arts, and philosophy 

The opportunity to learn the Chinese language in a unique and interesting way
Their method implies that Chinese is not that difficult to learn as most people think. They used the most simplistic way to teach the language and upgrade it from what they have before. Learning is fun only when the trainer or instructor teaches in a simple, understandable way, which is accompanied by a strong passion for the language. All of this will be received from the course. For further information please do visit at(www.udemy.com) 
Conclusion:
The above platforms are going to serve the best for aspirants in achieving and fulfilling their interest in the Chinese language. Also, the language has become so popular across the world because of its influence in the current business world. Learning the Chinese language opens new doors and create job opportunity worldwide.