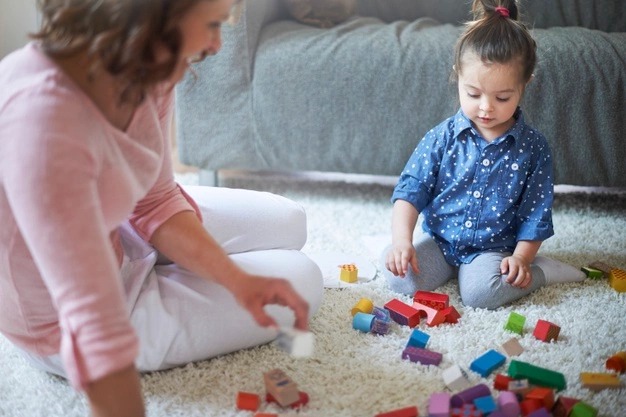 Is It possible for a 2-year-old to learn Spanish?
Learning Spanish in the early years can be very intimidating, but it is a good idea for your kid as sometimes children tend to pick up languages more easily than grown-ups but it takes more time usually. Children are not born with excellent language skills, they don't know anything about languages. They gradually pick it up. Kids understand the language (receptive language; comprehension) before producing language themselves (productive language; language output).
According to research, It generally takes about 18 months to develop a basic level of language. On average, 2-year-old children have a vocabulary of approximately 150-300 words. When a child is 2 years old, he or she starts picking up nouns, pronouns, and small words. You can use this ability to introduce the child to Spanish vocabulary for children. As your toddler will be learning your native language at the same time as Spanish, be careful to avoid confusion. Limit the number of words you teach your child every day.
1. Read Storybooks or picture books in Spanish with them-

Pictures aid in understanding and enable children to connect words with objects or ideas.
Plus, reading books in Spanish is one of the best ways to help children pick up the sentence structures of the language. Use books that ask them to touch or name objects or repeat words (you can do this yourself with any picture book just by asking your child questions). As their language skills develop, they'll enjoy poems, puns, and jokes.
2. Watch Spanish cartoons-

Cartoons are the best way to introduce the child to the Spanish language. They are a great audiovisual learning aid. Besides, children love cartoons and wouldn't feel bored while watching and learning along the way. My most favorite cartoon is Dora The Explorer, you can get the Spanish version of it or check out some other cartoons or movies in Spanish.
3. Talk in Spanish-
To teach Spanish to the little one, you need to constantly talk with him/her in Spanish. Toddlers learn any language by hearing others speak it. That's how they learn their native languages.
4. Spanish music-
Children learn a lot through music and if you let them listen to Spanish music, they will start picking on words from the lyrics of the songs and start mimicking them. Find some simple music for children and let the child dance to it. 
5. Toddler games-
Go to an online or offline toy store and find word games for toddlers or similar stuff. There are a variety of unique games available nowadays that can help your child learn Spanish. You can find some really good games like Rockalingua, Spanish Playground and Amazon.
5. Talking Tom apps-
Support the child's talking at almost any stage with the Talking Tom series of free apps (e.g., Tom the Cat, Gina the Giraffe, Pierre the Parrot, Ben the Dog, etc.): They will repeat back any vocalization your child makes! 
6. Animated Rhymes-
Use YouTube for showing animated rhyme videos or story videos to the child. They are super fun and interactive.
7. Bedtime stories in Spanish-
Children love bedtime stories, don't they? Sometimes they don't sleep without listening to them. Try to read Spanish stories to them in bed, and make the process fun and intriguing by asking questions.
8. Engage them
Toddlers love to be involved, they want to always feel loved, and involved in everything that is going around them. Whenever you're doing something, get them involved and tell them what you're doing, take the opportunity and talk about food while you prepare a meal. It can be as easy as placing some vegetables on the table for the toddler to handle and identify. Similarly, tap on their nose or other body parts and ask them to identify them. After all, kids love the guesswork, and then comes the cute laughter at the end. Aww! 
When children become 3 years old, their language learning skills spurt up. It is important to let the child be engrossed in the language learning process until he is fully immersed in it.
Teaching a 2-year-old a second language is a fun and interesting task. With all these simple ways a child can easily learn Spanish. Now that you've got all the tools you'll need, are you ready to have some fun and teach a toddler Spanish?