Introduction:
Sanskrit  is a classical language of South Asia belonging to the Indo-Aryan branch of the Indo-European languages. It arose in South Asia after its predecessor languages had diffused there from the northwest in the late Bronze Age.  Sanskrit is the sacred language of Hinduism, the language of classical Hindu philosophy, and of historical texts of Buddhism and Jainism. It was a link language in ancient and medieval South Asia, and upon transmission of Hindu and Buddhist culture to Southeast Asia, East Asia and Central Asia in the early medieval era, it became a language of religion and high culture, and of the political elites in some of these regions.
To help your children understand and connect with their rich cultural heritage and revive their interest in this ancient language, share with them these interesting facts about Sanskrit: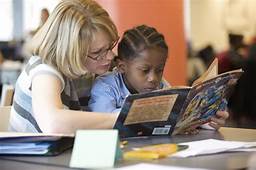 Facts about Sanskrit
Sanskrit is one of the oldest languages with a documented history of almost 3,500 years.

Rigveda, the oldest sacred text of the Hindus, is written in Sanskrit. It consists of more than 1,000 hymns or suktas, dedicated to Hindu deities.

Sanskrit has also been used in movies. Six Sanskrit movies have been released so far, with one more slated for release in 2018. The first Sanskrit movie, 'Adi Shankaracharya', was released way back in 1983 while the other five were made in the past few years. One of these six movies, Anurakthi, was shot in 3-D. The upcoming Sanskrit movie, Punyakoti, will be an animated film.

Sanskrit has many similarities with other old languages such as Ancient Greek and Classical Latin. This is because all these three belong to the family of Indo-European languages.

Even though Sanskrit is no longer used as an everyday language, in two villages of Karnataka, Mattur and Hosahalli, it is still the language of communication.

Suresh Bharadwaj and Gobind Singh Thakur, out of 11 ministers, took their oath of office in Himachal Pradesh in Sanskrit, when the rest took it in Hindi.

The first ever centre for spoken Sanskrit was launched in Ahmedabad on 10th February 2018.

Sanskrit is the mother of most Indian languages. However, languages spoken in southern India belong to the Dravidian language family. But, Sanskrit does have some influence on these languages.
Sanskrit has been a significant part of India's rich cultural and linguistic history. It is the foundation on which many Indian languages are based and is used for all Hindu religious ceremonies, even today. Share these interesting facts about Sanskrit with your child and help her understand why learning this language is important today.
The Benefits of Teaching Sanskrit to kids
Broaden Horizons–
If you teach your children Sanskrit, they will have access to a wider selection of literature, media, and other language-related experiences. This exposes kids to a wider range of ideas, opinions, and thoughts.
Give An Academic Advantage-
If their school provides Sanskrit classes, children who speak Sanskrit will have an edge. They can take Sanskrit as an "easy course" in high school and focus on another subject. Teaching your child a second language can even provide them with an advantage when applying to colleges.
Enhance Travel-
When you know the language of a country, you can get a lot more out of your trip. If you go on vacation to a Sanskrit-speaking country, your child will be able to communicate with the people and have a better grasp of the exhibits in museums, art galleries, and other tourist sites.
Confidence-
For children, learning a second language can be a huge confidence booster. They may think of themselves as intelligent and capable individuals. You can be anything if you believe it.
What Is the Best Way to Teach Sanskrit to Children?
There are many ways to teach your children Sanskrit, but only a few of them involve traditional classroom learning. While classes are an important part of the learning process, actively using the second language in your daily life is a fantastic approach to improve comprehension and speech flexibility.
1. Speak Sanskrit at Home
Speaking Sanskrit at home with your child, whether he or she is a baby, a toddler, a tween, or a teen, is a wonderful approach to help them connect foreign language terminology to everyday life.
It's a very low-pressure technique for anxious or sensitive children who are afraid of making a mistake and being embarrassed to speak another language.
2. Learn Together
You and your child can learn Sanskrit together if you can find parent and child classes. Some people are astonished to learn that their child can end up benefiting them as much as they help their child when they attend this type of program.
Furthermore, this style of class frequently concentrates on terminology that is related to children's hobbies and activities.
3. Try through Online language apps
Explore the apps for teaching Sanskrit to children that are accessible for your smart device. Some, such as Language Curry and Multibhashi, provide both a free and a premium edition with limited content.
We discovered that trying out a variety of free options helped us figure out what kind of program our kids liked the best. You won't waste money on an app that isn't best suited to your child's learning style this way.
4. Use Labels
It's simple to discover or make labels for daily items that include both English and Sanskrit words, or just the Sanskrit words. You and your child can look at and read the labels together if your youngster hasn't started reading yet.
Not only will this assist you in focusing on the types of vocabulary you use daily, but it will also assist your child in learning to read and write in Sanskrit.
5. Find Extra-Curricular activities
It is not unusual to discover extracurricular events hosted in Sanskrit in bigger metropolitan and suburban regions these days. However, we do have one word of caution. If your child is easily overwhelmed, don't put them in a programme with a steep learning curve unless they are already fluent in Sanskrit. Trying to learn a new skill and a new language at the same time might be difficult.
6. Praise your child for their progress
Milestone achievements, such as successfully learning the names of colors or animals, or being able to hold simple conversations, should be rewarded through positive affirmation or small rewards, like candy, toys, or a favorite video. Regular praise will reinforce your child's desire to learn.
7. Expose your child to books and videos in the new language
Allow your child to choose bilingual stories, television programs, and movies that appeal to them, and if possible, look for translations of your child's favorite books and movies. Use reading and watching time to continue exposing your child to the new language. Watching cartoons in a second language can help your child learn that language.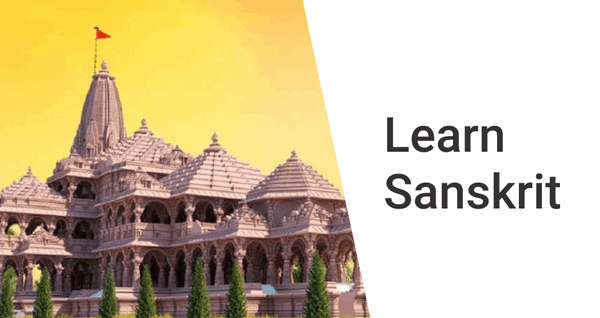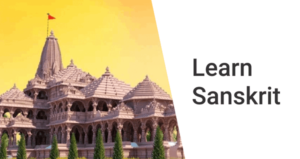 Conclusion
So, you can follow the above given ways or try to create unique ways to teach your kid Sanskrit while having fun. Always remember, they should not feel the burden of it or else they'll try to get away from learning. 
Stay calm and just go with their learning flow! Good Luck!!!