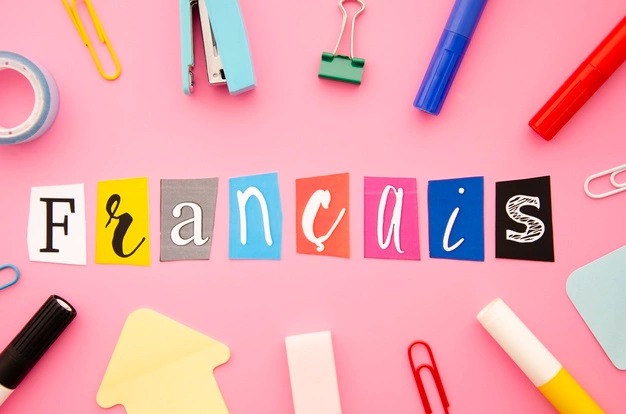 Introduction:
French language is a Romance language of the Indo-European family. It descended from the Vulgar Latin of the Roman Empire, as did all Romance languages. French evolved from Gallo-Romance, the Latin spoken in Gaul, and more specifically in Northern Gaul. Its closest relatives are the other languages d'oïl—languages historically spoken in northern France and in southern Belgium, which French largely supplanted. French was also influenced by native Celtic languages of Northern Roman Gaul like Gallia Belgica and by the Frankish language of the post-Roman Frankish invaders. Today, owing to France's past overseas expansion, there are numerous French-based creole languages, most notably Haitian Creole. A French-speaking person or nation may be referred to as Francophone in both English and French.
Want to learn French, but don't have time to go to class?
Wondering how to learn French by yourself—or if you even can do that?
You're not alone. Lots of people are on the lookout for the best way to learn French all on their own.
In this blog, we will explore some steps to learn french by yourself.
How to teach French by Yourself in 8 Simple Steps

Do Written French Exercises (with an Answer Guide)
Written exercises tend to be the bane of many students' French learning experiences, but don't knock this useful practice tool. It helps you make the most of all those grammar rules you try to memorize by ingraining them into the way that you write and speak.
The first step of doing written exercises when you're learning French by yourself is to find a way to check yourself! Doing exercises on your own is useless if you can't check to make sure you've answered correctly.
Also, you can join Multibhashi online language learning app to learn a language. They have the best trainers out there. Also, they cooperate with students very well. And with proper instruction; you will have to develop your own tasks for regular written exercises.
Make and Use French Flashcards
Remember memorizing your algebra equations or periodic table with flashcards? There's a reason this time-honored technique has been popular for generations—it works! So when you start wondering how to learn French words and all those confusing irregular verb conjugations, don't be afraid to go old school.
           Flashcards are obviously not ideal for all aspects of learning French, but the simpler elements of the language like vocabulary definitions or translations, genders of words, and different verb forms can be effectively practiced using homemade flashcards.
Use Songs to Replace French Dictations
The dictée (dictation) is a common exercise for young French children in elementary school. With a dictée they're ensuring that they learn how to write in French correctly—and it can be just as effective for learning French as a second language! All it takes is a text and someone to read it to you.
That's the major difference when you learn French at home! Who's going to read to you?
Usually, a dictée involves copying down what the teacher reads out loud, making sure that all of your spelling, verb conjugation, and adjective agreement is correct. When you're learning alone, you don't have someone else to read to you. However, you can still do a dictée by listening to some of your favorite French songs.
Watch French TV and Movies
When you're learning on your own, learning doesn't stop when you leave the classroom. Learning French by yourself can extend into your free time as well.
Don't worry, we're not suggesting you do grammar exercises all day and night, but something as simple as kicking back in front of the TV or watching a movie can be helpful for your French language learning.
First, pick a French TV show or movie you want to discover. Watch it for the first time with English subtitles.
Write in French with a Goal in Mind
One of the most difficult tasks to accomplish when you're learning French by yourself can be developing writing skills. You won't be able to achieve writing perfection all on your own, but you can definitely refine certain skills.
The key is writing with a specific goal in mind, such as practicing the simple future or the different uses of the conditional—which is really how French teachers in lower and intermediate levels function as well.
Keep Up With the News
Today's news media is so widespread that the day's top news stories make it onto your radar without you even seeking them out! Wouldn't it be great then if you could learn French while keeping up with the headlines?
Best of all, you don't even need to visit a newsstand or get a physical subscription to a newspaper or magazine in French. Using online news will not only keep you up to date with current events, but you can learn French at the same time.
Scroll Your Way to Fluency
Have you ever looked into that place in your smartphone settings where you can see a daily breakdown of how long you spend on each app?
If you're anything like me, that is a scary place. In short, I spend a lot of time on Facebook, Twitter, Instagram and YouTube, and I have a feeling I'm not alone.
Instead of feeling bad, turn all that wasted time on its head! Social media and other online activities are great ways to learn French.
Play Games & Master French
At the end of a long day at work or school, playing games is a fun way to relax. They can also be educational and a great way to learn French.
how to learn french by yourself I'm sure you know, there are many gamified apps online that are geared toward teaching the French language in a game-like format such as Duolingo and Flash Academy. While Duolingo is a more traditional language learning app with game elements, Flash Academy actually uses flash games such as bubble popping and matching to teach French.
Conclusion:
Learning a language is another thing, the main thing is interest and dedication towards learning any language. If You are serious about learning a language then some of the tips given above can help you to learn French yourself at home.
Also, you can join Multibhashi for language learning. Click here