Imtroduction
Yes, it's definitely worth studying any language! It expands your knowledge to a great amount about the place, language, people and so much more. Arabic is a Semitic language that first emerged in the 1st to 4th centuries CE. It is now the lingua franca of the Arab world.
 Arabic is widely taught in schools and universities and is used to varying degrees in workplaces, government and the media. Arabic, in its standard form, is the official language of 26 states, as well as the liturgical language of the religion of Islam, since the Quran and Hadith were written in Arabic. Arabic is the liturgical language of 1.8 billion Muslims, and Arabic is one of six official languages of the United Nations. All varieties of Arabic combined are spoken by perhaps as many as 422 million speakers (native and non-native) in the Arab world, making it the fifth most spoken language in the world. 
It is named after the Arabs, a term initially used to describe peoples living in the Arabian Peninsula bounded by eastern Egypt in the west, Mesopotamia in the east, and the Anti-Lebanon mountains and Northern Syria in the north, as perceived by ancient Greek geographers.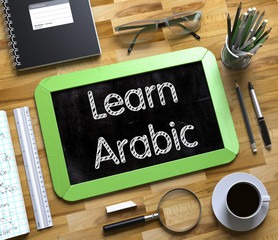 Why is it worth studying Arabic?

For those people who are passionate about traveling, and practically travel somewhere or the other every year and plan to travel to Arabic speaking places. It is beneficial for them to have learnt the Arabic language as they will be able to have better interaction with the natives and also, they need not hire someone for translations. How annoying it will be to rely on someone the entire day for each and every word, right? So, it's worth studying Arabic to have a great travel experience.  
Opens the door to highly paid job opportunities. 
Did you know that the salary of a person who works in an Arabic firm and speaks the language gets an attractive income compared to another employee who just knows only English language? To my research, an entry-level Arabic language translator with only 6 months work experience can earn about 406,946(includes tips, bonus, and overtime pay) INR in a year. Speaking of Dubai, it happens to be the populous city in UAE that is on everyone's bucket list, right?  You can actually go and work there if you speak, write and read Arabic language.  
Learn about the place and its history. 
People who study Arabic language can grasp better about the Arabic speaking place's history and its civilization. According to Wikipedia, Arabs are first mentioned in Biblical and Assyrian texts of the ninth to fifth centuries BCE where they appear as nomadic pastoralists inhabiting the Syrian Desert. Proto-Arabs are presumed to have originated from what is now modern-day Hejaz and Najd in Saudi Arabia. Arabs spread from there to the central and southern parts of the Levant, sometimes replacing previously spoken Semitic languages.

Learn Arabic to easily learn another language. 
The Arabic language is related to other world languages. Studying and understanding the Arabic language will make it easier to learn other languages such as Farsi, Persian, Turkish, Urdu, and Hebrew. The majority of the lexicon for these languages is similar or from the same root as Arabic words. The grammatical constructions and the semantics between these languages are similar. So, it is beneficial to learn the Arabic language.
The study of the Arabic language is a road map to culture.
When you study the Arabic language, eventually, you will start learning about the Arabic culture. The majority of people who are natives follow Islamic as their religion and read Quran. According to research, Muslims believe God revealed to the Prophet Mohammed through the Angel Gabriel. Women are supposed to wear clothes that cover their head when visiting a mosque. They pray five times a day and in their Ramadan month, they fast from sunrise till sunset. You will get to more than these points when you study Arabic.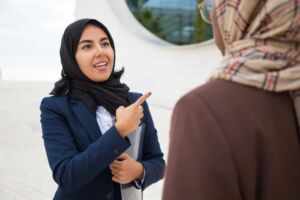 The few paragraphs that are mentioned above show the worth of learning the Arabic language. I bet you can't learn properly and easily give up without proper guidance. So, I am recommending that you should learn with Multibhashi to grasp more benefits after learning the language.