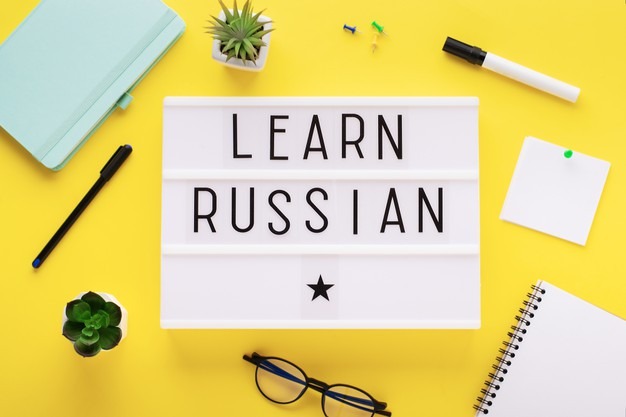 Introduction:
Russian is one of the most widely spoken native languages in Europe. It belongs to the Slavic group of the Indo-European language family. The total number of Russian language speakers around the world is estimated to be from 255 to 285 million.
Russian is one of the five official languages of the United Nations and ranks as the major world language along with Chinese, English, Spanish and Hindi. It is the native language of 142 million citizens of the Russian Federation, the world's largest country.
As the language is widely spoken and ranked in the major languages of the United Nations there are many benefits from being able to communicate with all kinds of people in all types of situations in Russian-speaking countries and beyond. 
In this blog, we will explore the Fast, Easy & Fun ways to learn Russian.
The Fast,Easy & Fun Way:
1.Take the time to learn Cyrillic.
The Russian language uses the Cyrillic alphabet. Some letters are the same as the English alphabet, but others are a little different, so it's important to take the time to learn Cyrillic.
There are a lot of resources that offer transliterations of Russian words to save you the trouble, but these are actually likely to waste more of your time than just learning the alphabet.
There are lots of great resources out there for learning the Russian alphabet. For instance, you might try Master Russian's guide or Russian Plus's popular YouTube video. Regardless of what source you choose, learning the alphabet shouldn't take long, and it will save you a lot of time in the long run. It will be great fun too.
2. Use authentic media.
Using authentic media is a fun and useful way to learn Russian quickly. By using audio and video made for native speakers and listening to the Russian language in context, you can more directly apply what you learn to real-world situations.
It will be great fun learning through audio and videos. You can use google or youtube where video lectures are available or you can join any class having video lectures will help you a lot.  And also you can watch videos and listen to audio in Russian you can improve your learning. 
3. Learn common words first.
Learning the most common words first will ensure that you're able to use your Russian skills immediately. Getting fully fluent will still take some more time, but being able to communicate in Russian right off the bat is like getting a running start on the road to fluency. After all, if you know the most common words, you'll be able to hold basic conversations and listen to authentic sources, which will in turn lead to more learning.
To get started, go and get some guide to learn 1000 Russian words from 101 Languages.
4. Learn words that tie to your native language or are the same across languages.
Many languages, including Russian and English, share some words that are similar or exactly the same.
There are two main reasons for this.
One reason is that words in different languages may share the same root words. For instance, many words have Latin or Greek roots, so you might find them to be the same or similar between Russian and English.

Another cause of similar words between languages is the existence of loanwords. Sometimes, one language will adopt words from other languages, and this can lead to words being the same across languages.
5. Immerse yourself in Russian, at home, or abroad.
Immersion is the quickest way to learn any language.
If you can go abroad to immerse yourself in Russian, that's terrific! If not, you can still immerse yourself at home.
Simple things like reading Russian magazines, labeling household items with their Russian names or watching Russian movies will go a long way to improving your fluency.
To really benefit from home immersion, put together a plan. What will you do every day at home to surround yourself with the Russian language? Think through your daily routine, and think about all the places you could insert a little Russian.
6. Practice your skills daily.
Regardless of which fast learning techniques you use, it's important to practice your Russian skills daily.
Daily practice is important to encourage your skills to keep moving forward, whether this is through immersion techniques or just studying daily. It can be tempting to study for hours one day and then wait a few days to study again. The problem with this is that your skills will backslide during your time away from learning, thereby slowing down your learning progress. If you make learning Russian a daily activity, you won't have to waste as much time relearning the material.
7. Find a native speaker to interact with.
Interacting with native speakers is a quick way to improve your skills. Speaking with Russians will improve your pronunciation, speaking, and listening. A written pen pal relationship can also improve your reading and writing.
If you don't know any Russians, try an online language exchange program like WeSpeke or MyLanguageExchange.
8. Use a targeted program.
There are a number of targeted learning programs that promise fast results. When used in combination with authentic learning materials, targeted programs can be a helpful way to put your learning into overdrive.
Multibhashi is one of the best online language learning apps, which provides the very best, effective, and professional learning classes for learning Russian. You can enroll us at:https://classes.multibhashi.com/courses/live-Russian-classes-online
It will be great fun too.
Conclusion:
Above in the blog, we mentioned some of the best, fast, easy, and fun ways to learn Russian. But one thing you keep in mind you have to be dedicated to learning throughout your whole course.
 All the best!!!!