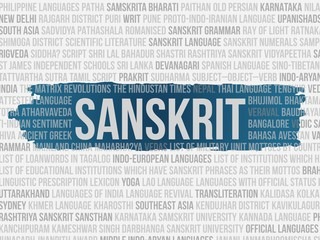 Sanskrit belongs to the Indo-Aryan branch of the Indo-European languages. It is a classical language of South Asia. Sanskrit is the language of classical Hindu philosophy, and is the sacred language of Hinduism. Sanskrit continues to be widely used as a ceremonial and ritual language in Hindu and Buddhist hymns and chants. It is also the language of historical texts of Buddhism and Jainism.
Has it, but, become useless in today's world?
Does it have no significance apart from the fact that it is used for chanting in rituals in Hinduism?
Is it on the verge of complete extinction?
Sanskrit: A Fascinating Language
People who deal with a number of languages in their lives know answers to the above questions very well. Sanskrit is neither outdated nor is it on the verge of extinction. It is the language that has recently been recognized as the one which is the most appropriate to be used to develop programs related to artificial intelligence. It is also said that Sanskrit is very easy to use as a computer language.
Sanskrit has always fascinated language enthusiasts throughout the world. Philologists, archaeologists, language experts have been revering it for ages. It is taught as a subject in academics in many schools and universities the world over. At least 14 universities in Germany and at least 4 in the United Nations offer courses in the Sanskrit language. Apart from this, many educational institutes and language training organizations in countries including the United States, Australia, and New Zealand teach Sanskrit. In short, Sanskrit is not limited to South Asia alone but has established a strong position for itself at places far and wide.   
What are the top Sanskrit words to learn?
Sanskrit is a language with highly developed and sophisticated grammar and vocabulary. Its grammar is rule-bound or we can say formula bound. Its vocabulary is so advanced that each word has at least hundreds of synonyms, which can be used in different contexts.  
One must focus on learning the core Sanskrit vocabulary first. Words, phrases, and vocabulary which form the basis for the day – to – communication should be learned at the beginning.
Phrases and sentences such as:
My name is …

What is your name?

I am from …

My age is …

Have you seen …?

I want to go to … (place)

Where is … (place) located?

I need help with …

How can I help you?

Wish you …

Convey my regards to …

Did you see my … (any object or pet)?

I need some …, etc.
Words for air, water, milk, bag, mode of transport, house, animals, important things like phone, book, computer, etc. should be a part of the basic vocabulary that one must strive to learn first while learning Sanskrit.
Conclusion:
These resources are:
Magazines written in Sanskrit

Speeches by Sanskrit language experts

Books for learning Sanskrit

Podcasts and educational videos, etc.
The above resources, however, do not guarantee perfection in one's Sanskrit language skills. To enhance one's knowledge of the Sanskrit language, one must take lessons in Sanskrit from a Sanskrit language expert. Only a professional language tutor or instructor knows how to teach the basics and the nitty-gritty of a language to a novice or a beginner in an effective manner. Online Sanskrit classes taken through the medium of audio-visual sessions help a learner grasp the knowledge of Sanskrit, better. An online Sanskrit learning course can be taken from the safety and comfort of one's home, with resources as little as a smartphone or laptop, internet service connectivity, and keen enthusiasm to learn Sanskrit. One can note the pronunciations of words as they are spoken by an expert.
Similarly, the notes shared with a student via screen-sharing allow the student to learn to read the Sanskrit script correctly, with guidance from the trainer; also writing in the Sanskrit script is taught thoroughly and given sufficient practice. Thus, all the parameters of Sanskrit language learning, such as listening, speaking Sanskrit, reading Sanskrit, comprehension, and writing are covered during such an online Sanskrit learning course.