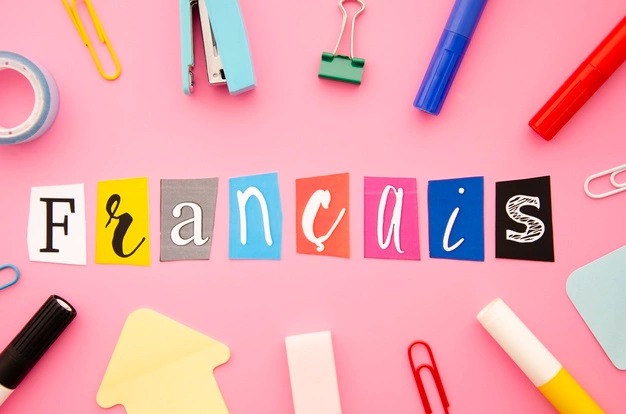 Introduction:
Simply and in a sentence, "We are not from France!".  It is not easy to learn a language which isn't our mother tongue as we are born and raised by our own people, we spoke our languages since birth. So, it is natural for people to adapt to their own regional languages and accents. In the same way, people from France will not be able to understand our language. It may be somewhat understandable for French language learners as they are taking courses for the specific language, some may find it difficult even after years of study but imagine about the people who do not know a single word of French language. 
History Of French:
 Before we discuss why it is a difficult language to learn, let us know the history of the language. French is spoken by more than 220 million people on five continents. It's the international language of cooking, film, fashion, theatre, the visual arts, and dance. In addition to the English letters, French uses several accents: grave accents (à, è, and ù) and acute accents (é). A circumflex applies to all vowels, except Y (considered as a vowel): â, ê, î, ô, û. A tréma (French for dieresis) is also applied: ë, ï, ü, ÿ. Two combined letters (called orthographic ligatures) are used: æ and œ.
 Finally, a cedilla is used on the c to make it sound like English. French is an official language in 29 countries across multiple continents,  most of which are members of the organizational de la francophonie (OIF), the community of 84 countries that share the official use or teaching of French. French is also one of six official languages used in the united nations. It is spoken as a first language (in descending order of the number of speakers) in France; Canada(provinces of Quebec, Ontario, and NewBrunswick as well as other Francophone regions); Belgium (Wallonia and the Brussels-Capital Region); western Switzerland (Romandy—all or part of the cantons of Bern, Fribourg, Geneva, Jura, Neuchâtel, Vaud, Valais); Monaco; parts of Luxembourg; parts of the United States (the states of Louisiana, Maine, New Hampshire, and Vermont); northwestern Italy (autonomous region of Aosta Valley); and various communities elsewhere. 
History Of French:
Although people say that the French language is a beautiful language, it is difficult to pronounce the words for non-natives. Some parts of a word are stressed, it's not as distinct as in English. Nasal vowels, back of the throat "r"s, and silent letters make French pronunciation one of the biggest obstacles in learning French.
There are a variety of accents that have different pronunciations: Cedilla: Ç (Cédille), Acute Accent: é (Accent Aigu), Circumflex: â (Accent Circonflexe), Grave Accent: à (Accent Grave), Dieresis/Umlaut: ë (Accent Tréma). These make the words look formidable as well if you're not familiar with them. 

Liaison further complicates French pronunciation. Liaison is when you pronounce the ending consonants of some words if a vowel or the letter "h" comes after it. An example would be, "les enfants" where you would pronounce the "s" because an "e" begins the next word.

Spelling is even tougher than the pronunciations. You must not only remember how to spell the word when many of the letters aren't used, but you'll also have to remember all the accents and abbreviate articles correctly according to their gender.

It has gendered nouns. Words are either masculine or feminine in French. This means that words will have either a masculine "le" or feminine "la" article. Indefinite articles will use either the masculine "un" or feminine "une." And if the noun is plural, then it's "les" or "des."

Counting logic in French is even weirder. French uses a "vigesimal system" after 60. Instead of saying a version of "70", they say, "soixante-dix" or sixty and ten. And then at 80, it gets even stranger, "quatre-vingts" or four twenties.

French grammar is even more complicated. 

There are a lot of false cognates in French, words that sound similar, but their meaning is totally different. Some examples of these are "libraries", which means bookstore, or "journée", which means day. And there are plenty more.
Thus, it is hard to understand the French language so well. We need to be very attentive when we are taking classes and we need to invest a lot of time to practice to master the language. Even though it is difficult to understand, it will be worth it when we master the language.