Improve your Arabic speaking skills online with Multibhashi
Arabic is a native language for over 300 million people and an official language in 25 countries. The major number of Arabic native speakers can be found in Egypt followed by Algeria, Sudan, Iraq, and Morocco.
Basically, 5.2% of the world's population speaks this language, and learning Arabic would definitely be a smart choice. So, If you want to improve your speaking skill in Arabic, Multibhashi would be a great online source for you.
Improve your Arabic speaking skills
Multibhashi offers interactive online classes that embed the interest to learn a language of your choice,  deep in your subconscious.  It helps you gather courage and confidence to read, speak and memorize the most common Arabic words, phrases to form sentences all on your own. By focusing on common phrases, in just minutes and joining conversations you improve your vocabulary, grammar, and pronunciation like no other language learning method.
We cannot learn the Arabic language only by reading textbooks, but we need to extend our scope of learning by adding writing, hearing and speaking to our everyday schedule. Multibhashi is working with professional native speakers with crystal clear voices and good pronunciation, so you can learn flawless pronunciations and accents. You can learn through live online classes by Multibhashi.
Immersion!
Immersing is yet another way to learn a language by going to a country for a short stay. However, not all of us are blessed with such financial resources, neither can we abandon all that we are doing and hop on to a flight to the Gulf. 
To help you get an equivalent experience without having to travel, Multibhashi extends, you live, not dead recorded classes You can ask questions, play quizzes, talk to fellow speakers all under the same roof all from the comfort of your own home. 
Repetition may sound boring and outrageous to some. But it's not the same as mugging up. Repetition of words involves you to speak it enough number of times to get its pronunciation right and register it in your mind. Talk to yourself in a mirror, with your pet, family member or a friend who can help you, scale-up in language learning by their mere existence and encouragement. Repeat the day's lesson taught in the class, jot down questions, doubts to diligently pursue your language learning. You are sure to win by learning the Arabic language, speaking new words and phrases in no time.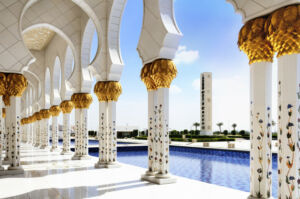 Arabic at Multibhashi
With Multibhashi you can start learning Arabic word by word, with one step at a time approach. You will be taught to use words to build sentences and phrases, and at the end, you will be able to reconstruct that conversation with your choice. Explore reading, listening, writing, and speaking exercises with Arabic worksheets provided by Multibhashi and take it to the next level by downloading moe such worksheets online. By doing this, you will feel in full control of your learning. This will be an effective way to learn Arabic.
With professional Arabic speakers, you will learn the correct Arabic pronunciations by listening to phrases spoken by native speakers with a high-class audio/ video experience. In this way, you will get a perfect accent and flawless pronunciation.
This is custom heading element
You would never have to face difficulties in pronunciation, word, sentence or context building when you are learning with Multibhashi classes. You will come one step closer to fluency in every class you attend while building your confidence to speak Arabic in real life.
If you have an Arabic teacher around you it is likely to benefit you largely in every step of the learning, which is essential when you want to improve and master pronunciations. The smallest of the smallest end-to-end conversations encourage you, to feel comfortable and confident going to the next step.
Another great way to learn Arabic could be the Multibhashi app, where our language experts have broken the learning process down into short lessons and organized them into extremely relevant themes. You could select your topic of interest and learn words and phrases related to that topic. You will be able to learn the essential parts of the Arabic language in an easy and fun way.
Finally find numerous resources from Multibhashi online on Youtube
Following online classes with Multibhashi, will definitely improve your Arabic speaking skills easily.
We also encourage you to log in to the Multibhashi channel on YouTube to get free online resources on the pronunciation of various Arabic words! This should empower you to make a decision faster so you can start your learning immediately.