English and German: Are they similar
Learning a language from scratch can prove to be a mammoth of a task. Moreover, It is better to learn a language that is similar to any language that you already know because it works as a base for the new language that you are about to learn. It helps in better understanding and increases relatability thus making learning and remembering easier for learners. In this blog, we will be seeing 7 similarities between English and German.
Similarities
Let's begin with their original German language belongs to the West Germanic group of the Indo-European language family. English on the other hand also belongs to the West Germanic group of the Indo-European language family. Not only in the time of their origin but even today both the languages are similar. Both the modern languages have borrowed words from Latin, Greek, and French. So it is no surprise that there are strong resemblances between both languages. 
We have talked about their origin, let's see their alphabets. Both the languages use the same alphabet. There are 26 letters in both of them. It is a really great plus point for an English speaker. They can directly start writing in German without having to worry about the alphabet and vowels. It will make the learning process easier. There are some exceptions to this

regarding the additional umlauted letters that are, " ä, ö and ü" and the Eszett or sharp S that is, " ß". 
Another similarity between German and English is that both the languages follow the same grammatical rules. All the English speakers who are learning German will notice that there are a lot of similar rules when it comes to the grammar. For example, the similarity can be noticed in the way verbs change based on their tense. In english the words change from "drink" to "drank" and "drunk" in the same way in German the words change from " trinkt" to "trank" and "getrunken".Therefore  an English speaker will always have a pretty good idea about the grammar patterns in German language. 
Borrowed vocabulary –  there are various words that both the languages have borrowed from each other if you are an English speaker chances are that you already know some German words. Sometimes people use certain words but never know of its origin or which language it belongs to originally. It is going to be a lot easier for you to expand your vocabulary in German. Because you won't find it difficult to remember the new words or their meanings. Even if you have never studied German before, as an English speaker you can decipher the meaning of words and sentences using a bit of common sense.
Similar pronunciations – apart from the same alphabets, borrowed words, the pronunciations are also somewhat similar. Some words are even pronounced the same as English only a bit of accent is what makes a difference. For example; "camera" in German is "Kamera", "university" in German is "Universitat", "house" in German is "Haus", etc. it is very easy to guess what some words mean. This will help your progress through the vocabulary and pronunciation part of learning. 
Along with words, both these languages use the same number system that is the Arabic number system. It will be easier for you to understand German numerals and number systems if you are an English speaker. Usually, learners find it difficult to switch between the number systems. But in this case, only the word changes not the whole number system.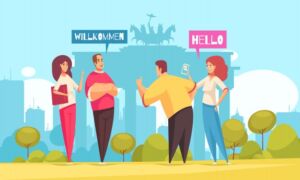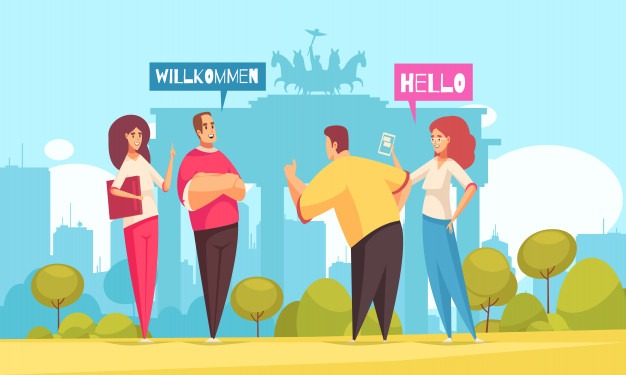 There are more similarities in German and English than the differences. Their origin pretty much explains all the similarities. Moreover, both languages are geographical neighbors hence connecting them further more with each other. Although they are similar, both the languages have their independent existence and are equally important and useful in terms of building a career abroad especially in the European continent. Make this learning fun, participate in all the fun events related to the language you want to learn.
Please click on the button below to know more about our online course!