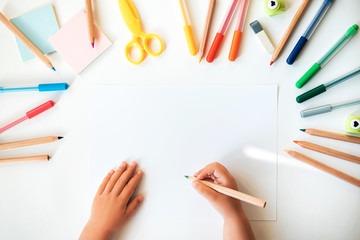 Art and music are  fantastic ways for a child to improve their language and reading skills while enhancing their critical thinking skills. Children will learn new words as they experience new things while they study creative subjects. They will learn words for colors, instruments, tools, and shapes! They will also discover how to look at something objectively and reflect on it. 
'Is this the best I could have played?'
 'How could I improve this art?' 
These are the essential kind of questions they will learn to ask themselves! And as they become better at art, music or whatever creative outlet they have chosen, their confidence in ALL subjects will grow exponentially. The praise and criticism they give and receive will toughen them up, enhance their self-respect and give them that swell of confidence they need to go out and succeed in life.
So from now on when you hear the word 'learning', don't just think of the usual run-of-the-mill academic lessons. Math, science and English are all very important, but there's so much more than that! Think of art, think of music, and think of how much your child could benefit and grow both academically and personally by studying a creative subject!
1. KEEP SUPPLIES AVAILABLE
You can't make art without supplies! I know, this sounds obvious, but have you ever tried to color without crayons or colored pencils? It's rather hard! What about painting without paint? Kids need art supplies if they're going to create art.
If you're anything like teacher or parent you always forget to run out and grab the supplies you need for projects. And life is much easier when the kids have the art supplies, they should be available when they need them.
2. COPY MASTERPIECES
Copying masterpieces is an awesome way for kids to improve their artwork. Just pull out pictures of old masterpieces and have the kids try recreating the Mona Lisa or sculpt David. Have the kids start with a sketch before they begin to paint and see how close they can replicate the original painting.
3. TRY DIFFERENT ART STYLES
You can do the same thing for studying the different styles of art. Choose one style, such as impressionism, to study for a term. And then slowly work through a book or course on the style and practice the various techniques. Kids can create paintings, sketches, and cards for family and friends.
Don't forget to copy the masterpieces of the style and let the kids try using the techniques in their own artwork.
4. USE 'HOW TO DRAW' BOOKS
Use 'how to draw' books to teach kids art. How to Draw books help to teach kids how to see the shapes inside different objects. This lets your children learn how to draw tigers, people, and planes. How to draw books are also great books to keep around the house for a rainy day .Just pull out the how-to-draw books, pencils, and paper and let the kids go. They'll be happily occupied for quite some time. Young kids love to draw, and it's even more fun when they know how to draw their favorite things.
5. ONLINE ART CLASSES
Use Online art classes to teach your kids art! The Masterpiece Society! You can introduce your kids to drawing techniques, watercolors, acrylics, and pastels using these classes. Your students  will love the How to Draw classes which teach how to draw their favorite objects. They'll beg for more! And your older kids won't be able to get enough of the art techniques courses!
In this way, you can attract your child's interest towards arts and crafts. Don't force them and let them learn on your own. Multibhashi also offers online classes for teaching arts and crafts specialized for little children. Do give it a look- Learn crafts for kids.
Have fun!