Introduction
Since schools have cut down on extracurricular activities like art, kids might not get enough time to express their creative side. Here we've gathered a list of some of the best online art classes for kids. There are all types of art & craft activities that kids of different ages can participate in. These classes are an excellent option for after-school activities. Otherwise, they also make for great summer education and fun option. Most of the art websites mentioned are completely free along with some paid options for kids looking for a more outlined path. While you might be tired of hearing how now is a perfect time to pick up a new skill or work on improving an old one, your kids might be itching too. With the absence of creative activities in school like arts and music classes and after-school extracurriculars, online art classes are becoming the normal-for-now and can teach the same skills in-person art classes can.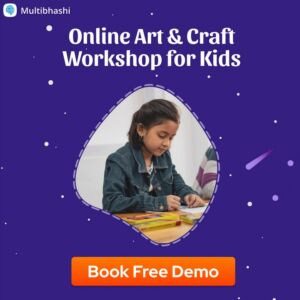 Some good and affordable online art classes
1. Multibhashi 
Your kids will learn how to draw, paint, and many other craft activities perfectly using some really easy techniques. Kids will get to know how to create the best from waste, that is, from used paper, wood, waste from food material, flower waste, and other household items. Moreover, this will help improve their focus and concentration thus helping them perform better in their studies. You can check the details of their workshop to help children develop a keen interest in various simple tasks and skills that are essential for being creative but are generally not taught as extra-curricular activities in schools for lack of time. Apart from these, Multibhashi offers art classes for toddlers, kids, teens, and adults online. It's offering online camps (morning and afternoon) for kids or teen  Summer camp classes.  
Multibhashi art courses are as follows
Pencil sketching

Mandala art

Madhubani art

Acrylic Painting 

Crayon art

Pencil colour shading 

Tribal art
And many more all these courses are for all age groups. Anyone who is interested and wants to develop their creative skills can enroll in these courses.click here to see
2. Supernow
Supernow is a top year-round destination for live, interactive classes led by whimsical characters that inspire curiosity, confidence, and creativity in kids ages 4-10. Kids go on museum adventures to learn art history from a zany French curator, create crafts out of recycled materials, and learn about sustainability from a woodland elf. At Super now, kids create, socialize, and use their imaginations! Plus, you get unlimited access to classes across music, movement, performance, mindfulness, and more.
3. KidzToPros
Kids between 4 to 14 years old can explore their artistic side and learn at KidzToPros arts programs. KidzToPros arts programs allow students to gain important life skills while socializing in small groups and expanding their knowledge in all sorts of creative activities. The art classes are taught by passionate instructors whose goal is to increase your kid's art skills and their development. With so many program options available, you can find the right one that matches your child's particular interests and meets your criteria.
4. Sparketh
Sparketh offers over 1000 art classes for kids to enjoy, completely free for the first 30 days. Kids from ages 6-18 can watch art courses on subjects like drawing, acrylic painting, and oil painting, baking, and more! They can even set up a meeting with an art mentor to discuss any questions they might have towards their passion for art and an art path to follow. Sparketh offers an excellent art platform that makes it easy for kids to track what they're learning, and course paths to follow in order to maximize their learning. Courses are self-paced for children who don't want to rush and do a great job at simplifying the learning process while also making art fun to learn.
5. Skillshare Art For Kids
Skillshare offers a variety of art classes that children can join. There are quite a few free options for parents on a budget. The classes are detailed, covering step by step how to do things for kids to prevent frustration and make art fun and easy to learn. Kids can learn how to draw and paint things like dogs, dragons, fruits, and all other types of cool things. Children can learn all types of new art skills that involve improving their acrylic painting techniques, sculpting more realistic clay figures, and a lot more. All your kid needs to get started is art supplies like paint, paper, and a pencil to draw.