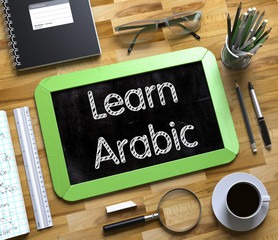 Are you looking for the best Arabic Class in Bangalore? Are you looking for an online tutor for Arabic? Learning Arabic can be a bit hard, and it should be taught in the right way. Arabic is the liturgical language of 1.8 billion Muslims, and Arabic is one of six official languages of the United Nations. All varieties of Arabic combined are spoken by perhaps as many as 422 million speakers (native and non-native) in the Arab world, making it the fifth most spoken language in the world. It is highly useful for job opportunities in the Gulf, or higher studies, or if you want to work as an Arabic translator or interpreter in your own country. You can also learn Arabic just because you are interested in learning it. So where should you start? Bangalore has several institutes, companies, or startups that offer Arabic courses/classes both online and offline. You can just type on the Internet and get information about a gazillion such institutes. Let's look at some of the best ones here: 
Best Arabic Classes:
Bangalore Training Academy

(BTA)
It offers both online and Practical one-to-one training in the Arabic language. It is a leading IT Training and Placement Company providing Quality Training on niche Technologies which are in high demand in the Industry from expert Trainers who are Real-time Working Professionals with minimum 10+ Years of Expertise in their relevant Technology. 
Inlingua
It is another institute that offers Arabic language courses with certifications at different levels. All levels correspond to the CEFR(Common European Framework of Reference) levels. If you're learning Arabic for official purposes and you need a certificate, then you should consider inlingua. 
Multibhashi
It is an online learning platform, that trains people in languages with the help of various class modules, online one-to-one training on video calls, and app-based learning. They have their headquarters based in Bangalore. You can choose from a variety of tutors to teach you online at reasonable prices.
These courses will help you learn Arabic in real-time, you can interact with your teacher, ask them questions and get guidance. If you're looking for tutors to teach you online you can take the help of platforms like Superprof and UrbanPro. Select the language that you want to learn, select your area and it will list out all the nearby tutors with their specified hourly rates, reviews and rating. Platforms like these can directly get you in touch with tutors and you can easily start taking your first lesson in Arabic! 
Word of caution:
Learning through an online course is a good way to start but the only way to master the language is by speaking to the natives in the language and immersing yourself in it or speaking to your classmates. Make sure you also don't forget about being consistent and dedicated throughout the process. Apart from the things listed above, keep looking out for more resources to learn Arabic. 
Remember, no matter how many courses or classes you take, if you're not serious about learning then it's of no use. You shouldn't be wasting your time and money. But if you are serious, and you do have a strong motivation or goal behind learning then, by all means, go for it!