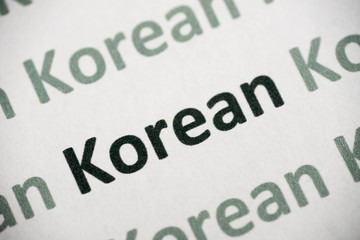 Introduction-
Korean is an East Asian language spoken by about 77 million people. It is the official and national language of both Koreas: North Korea and South Korea, with different standardized official forms used in each country. It is a recognized minority language in the Yanbian Korean Autonomous Prefecture and Changbai Korean Autonomous County of Jilin Province, China. It is also spoken in parts of Sakhalin, Russia, and Central Asia
Korean is believed to be one of the world's oldest spoken languages. Chinese characters Hanja arrived in Korea by the 1st century together with Buddhism. Korean was written in 'Hanja' which could only be studied by elites. King Sejong The Great (the fourth king of the Joseon Dynasty of the 15th century) felt that Hanja was inappropriate to write Korean; thus, he personally developed a new writing script that came to be known as 'Hangeul.' It was developed either to aid in or replace Hanja entirely.
Traditional Korean was written in a row, top to bottom, right to left; whereas, modern Korean is written in Column, Left to right, top to bottom.
Can anyone learn Korean in 3 months?

Here we have separated into different sections some of the different factors that affect how quickly you can learn Korean. These are also relative to just how fluent in Korean you want to become!
1. Your native language
Depending on what native language you speak, learning Korean might be just a little bit easier or a little bit tougher for you. For example, it is thought that Korean is especially difficult for native English speakers to become fluent.
Meanwhile, for Japanese, Chinese, and Arabic speakers, Korean can be an easy language to learn. It could take far few hours (or years!) to become fluent at the same level as a native English speaker.
Don't worry, though! Your native language may slow you down a little bit, but it isn't an obstacle you cannot overcome! For example, you can use associations in your native language for Korean words you want to learn.
2. Your previous language learning experience
You're at an advantage with learning a new language if you were raised as bilingual. Having developed fluency with speaking more than one language as a child over the years has made you naturally more adjustable to learning new languages.
Aside from that, other languages you have learned will help as well. One reason for this is because your other language learning experiences will have helped you develop good learning habits. This will get you started quickly with Korean as well.
3. The learning methods you are using
Learning Korean in a classroom setting is the best way to get clear information on grammar structures. It will also give you a well-thought-out plan to follow for learning vocabulary.
However, if you aren't learning, practicing, or applying the Korean you learned in situations outside of the classroom, then your progress will be slower. Instead of just focusing on getting the minimal homework done, try actively watching Korean TV shows and movies, practice through apps or language exchanges, talk with native speakers, and use eBooks and Korean learning websites. These are other fun methods Korean language learners like you can try to help develop your skills and achieve language proficiency faster.
4. How much of your time you are dedicating to learning Korean
The more hours you spend each day studying Korean, the quicker you can grow your fluency. Your time dedication is also connected to your general language learning ability and learning methods in use.
For example, you may be learning new Korean grammar or words on a daily basis. Spending more time doing reviewing this material is going to help you become more familiar with it.
5. Your attitude and motivation towards learning Korean
It's no secret that these two are the key to unlocking your language learning potential. Having a positive attitude towards learning Korean can help you keep highly motivated. And your motivation is what keeps you studying, day after day, even on the days where you're feeling frustrated because you are working on some challenging new grammar. 
How long does it take to learn Korean?

It takes 3 months (90 days) to learn enough Korean to have a 3-minute conversation in Korean if you study for 7-10 hours per week. After 1 year of studying at this pace, you can become conversationally fluent.
Below, we'll go over how much each step of learning Korean approximately takes. Since learning something new depends on the person and the factors mentioned above, it's difficult to give a specific numeral timeline.
Let us look at a few things that can help you speed up your Korean learning.
Start with a clear goal and deadline
Instead of a vague "I want to learn Korean", if we have a clear goal like "I want to be able to speak in Korean in three months". there is a very high possibility of working towards it in a very constructive manner. If your goal is to be able to speak well in Korean, you might want to focus more on that area and probably for the time being skip the reading and writing part. It is very important to have a goal with a clear deadline because our approach towards learning depends on this deadline. At the same time, a realistic goal is very important. 
Focus on basics
Whether it is a proficiency examination in Korean that you are preparing for or just the spoken Korean that you want to master to be able to communicate well in Korean, it is important to focus on the basics. From an examination point of view, you might have to learn everything from alphabet to grammar and its rules. When it comes to spoken Korean, you probably can start with basic vocabulary which can help you in most of the common situations in daily life. Once you are able to learn all the basics it becomes relatively easier to move further ahead and reach the proficiency level that you want to be at.
Choose your resources wisely
These days you have many resources both free and paid available very easily. Along with the traditional classroom learning and books, there are many options available online these days. Audio, video lessons, podcasts, websites, apps are some of the free options available to you that can help with some basics. However, if you would like to fast track your learning, you can choose an online language learning platform where you have structured lessons that help you learn based on your need.  You can find a tutor online who can help you learn from the comfort of your place at your convenient time.
Dedicate time to learning every day
It takes a lot of dedication and practice to learn Korean in 3 months. Ensure that you dedicate certain time every day to learning Korean. You can also make it a part of your life by trying different methods like trying to translate into Korean or finding situations where you can put your Korean to best practice even if it is just with yourself in front of the mirror.
Conclusion-
You know what works for you when it comes to learning a language. Just stick to that and you definitely can learn Korean in 3 months. 
So don't worry and Start learning. 
All the best!!!