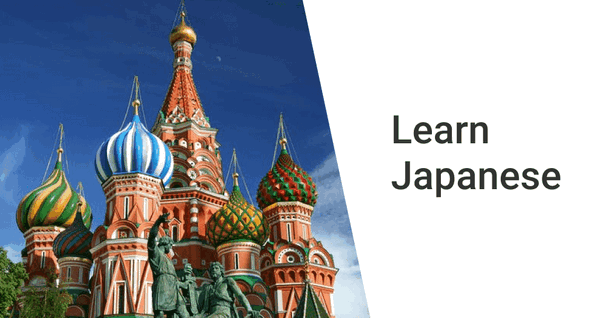 Introduction:
Learning a foreign language is a challenge that can help you open your mind to new experiences and bind all kinds of people across borders. These explanations are particularly true when it comes to studying Japanese.
To begin with, knowing the Japanese language opens up a whole world of Japanese speakers from Japan. It is an East Asian language spoken by about 128 million people.
Without further ado, let's see how we can learn the Japanese language in 6 months:
Ways to learn Japanese language:
1. Immerse yourself
It's almost impossible to learn a new language, or at least to learn it rapidly, unless you begin thinking in that language. But how do you think in a new language you can't yet speak?
Ingratiate yourself with the community and you're halfway there! 
The answer is to simply immerse yourself in it. Traveling in a foreign country allows you to continuously hear the sounds, rhythms, and inflections of a new language–spoken on the streets, in buses, on television, etc. Your brain will already start to process and interpret a new language.
2. Forget translating: think like a baby!
How do babies learn a language? Through imitation, repetition of sounds, and above all, by not being shy or self-conscious.
So what if your pronunciation is a little off, or you can't remember the proper conjugation? Just start talking, even if it seems like babbling. Resisting the urge to translate everything into your native language can be the single fastest shortcut to fluency.
Rather than walking up to the restaurant or giving your host family a pre-memorized phrase for what you're going to order, simply listen to how the locals order their food, and then imitate them as best you can. The same goes for greetings, small talk, etc. Watch their facial expressions as they say the words; study how they move their mouths.
Copy these expressions and sounds just like a baby would. Whether you understand what they mean exactly or not, eventually you will begin simply calling upon these sounds/phrases/words in appropriate situations. They'll appear, as if by magic. This is the gateway to thinking in a new language.
3. How do you say?
Besides common greetings, the one phrase you should memorize and always have at the ready is the phrase "How do you say that / what is that called?"
By being an inquisitive traveler, one who is always asking questions, you befriend the local people. You'll find that over time they'll open up to you, making it easier to initiate conversations. These daily interactions with the locals are your best teachers: set a daily goal for yourself of having X number of conversations each day–asking people about things you're interested in, but don't know the words for. Even if you can't finish the conversation, you're on the way.
4. Write it
 After having conversations, jot down the things you remembered hearing but didn't quite understand.
Then go back and use your dictionary. Look up the words, piece the conversation back together in your mind. Then, next time you have a conversation, use what you learned.
Besides helping me focus, they also became handy reference guides
5. Local TV, music, movies 
Watch movies, listen to music, sing songs, and browse newspapers and magazines. It's fun and helps improve your pronunciation and comprehension.
I often stumble when trying to read Japanese script. But by watching Japanese music videos and following the lyrics, I learned many new characters and also began pronouncing words more accurately.
6. A world of friends / then going solo.
While individual classes can be highly beneficial for unsurpassed attention, group classes with friends can greatly aid learning. Having a friend to practice with helps you get better, and you can also learn from the different mistakes different people make.
On the other hand, venturing out solo in a foreign country forces you to speak with local people–say the person riding next to you on the bus, or standing in line at the market. It also prevents you from relying on a friend with stronger language skills to do the talking for you in key exchanges such as asking for directions or buying food.
Conclusion:
Last and actually most important! Make friends with Japanese people. Some of them may also be interested in your culture and language and may want to talk to you as well. Don't be shy, but don't be obnoxious either. People in Japan don't usually like being accosted by foreigners to practice on, so just be respectful and you should be fine. That's why friends are the way to go.