Teaching Online
In and of itself, teaching Kindergarten is a difficult but rewarding task. When you add in the fact that you'll be training them online, it's a whole new ballgame! With all of the technology, innovative teaching methods, and unknowns, virtual teaching will easily stop a teacher in their tracks.
As teachers always do, you will adapt, learn, refine, and continue to serve your students in the best way you know how. These virtual teaching suggestions will help you relax and prepare yourself and your students for success.
1. Keep an eye on your tone and body language
It means to keep a smooth tone while talking with kids during online classes. Have fun with them, act like a child with them so that they will pay more attention towards you and also kids will take more interest in the class. Always make sure you are moving or speaking in a calm and gentle manner while interacting with kids otherwise kids also tend to lose control and feel scared when you raise your tone. And if you are acting nervous, impatient, or tense, the kids will likely pick up on that and feel uncomfortable.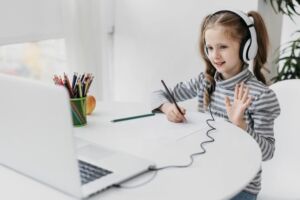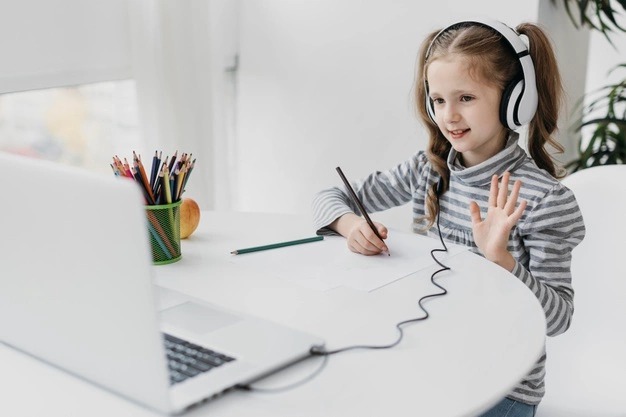 2. Focus on the entertainment way of teaching
As per my opinion teaching to kids in a funny manner will be more beneficial and why I am talking about this very confidently because I am also a professional trainer of art and craft in Multibhashi and in our company generally all the trainers adapt this way of teaching only and literally kids also enjoy it.
Now might be you are thinking what is this entertainment way so it means teaching kids with some play way methods like use flashcards to teach alphabets and show some objects to identify. It is necessary to adapt and to improvise by coming up with new teaching methods, introducing different ways of checking for understanding and focusing on the entertainment aspect of teaching. 
3. Try talking, even if the child doesn't understand
It doesn't matter if a child can understand the words you are saying to them, speaking to a kid is a great way for them to begin associating emotions with words and sounds and go ahead and talk with a kid either in simple  noises or regular speech to help them feel comfortable. As and when they learn new words, encourage them in a gud or interesting manner like clapping for them etc.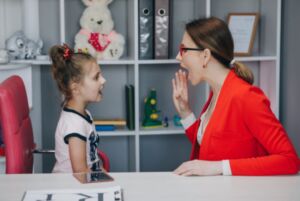 4. Use some activities and have fun with them
For kids learning about any fruits, being sure to have flashcards of different types of fruit would be a great idea. If you have some fruits in your house take them and show it to the kids and then ask the kids to identify or describe the fruit and ask them the questions related to that particular fruit. What is the color of the fruit? " Do you like this fruit?''
Also, there are few games that you can play with kids while teaching them. Like also you can use artificial toys related to animals to make them learn the names of the animals. Draw a rainbow drawing to make them learn the names of the colors.
5. Make sure you offer your full attention
Kids are excited about the world and will often demand your attention to share something with you. To keep them happy it's a good idea to always take at least a moment to acknowledge something they have to say. Because after a couple of days kids will get familiar with you and then automatically they will start talking with you frankly.