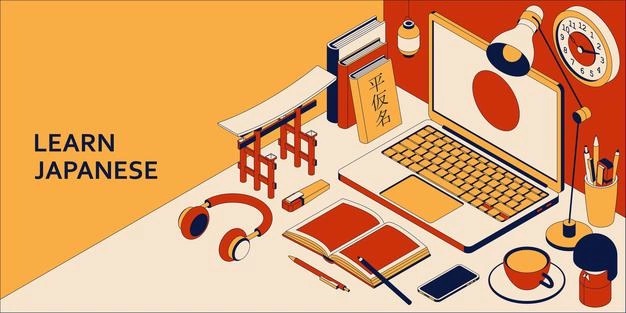 Introduction:
Japanese is a language many people are aiming to learn. With the advent of technology, it is not difficult to pursue something. Even if you do not belong to a place that has Japanese speaking population you can still learn Japanese. The internet is flooded with tips and tricks to learn Japanese. You can even get your hands on study materials, lessons and whatnot. We all have always studied from books when we were small. So you need not worry about that now also. You can also get access to books online. There is no need to physically visit and purchase a book.
To study Japanese on your own there are a number of things you have to keep in your mind. Most important, prepare yourself for the obstacles that come your way. That is because when you are studying on your own there is no one to guide you and correct you. You are your own teacher.
Keep these rules in your mind before you begin:

       

Be punctual

       

Set your goals and follow them.

       

Be consistent.

       

Put in hard work and effort.

       

Do not give up.
Steps you need to take in order to learn Japanese at home:

Prepare yourself: yes you need to be prepared before you begin to start learning. Preparing your mind and preparing the resources. Since you are not into some classes where you will get notes and resources to learn. So you have to collect your own resources.
Apps: there are many apps available that provide lessons that can help you learn Japanese. You can check the list of best apps available to learn Japanese. The apps have different categories. So you need to check them before deciding which to use. There are apps for learning vocabulary, grammar lessons, for speaking.

Websites: there are also websites of different platforms that provide training for different languages. You can see details of the course on their websites. You can contact them also if you want. If not then just use the material available on their sites.

Books: collect books that are useful for you. If you are new to the language then you will need books with the basics of the language. Some short stories, basic sentences, or grammar books.

Notebook and pen: to note down the important points. When you start learning you will know many new things. You can write it down. You can also make a list of vocabulary with their English translation so you have them handy.
Start learning: now since you have all data collected start learning with the basics. Learn the alphabet, then vocabulary. It is important that you know the vocabulary well because that will form the base of your sentence. You will not know how to speak a sentence in Japanese if you do not know the word for it. So learn your vocabulary well.
Practise: Practise is the key to learn anything successfully. A human being tends to forget what he learns every day. So make sure you learn it properly and then revise it on a daily basis. Keep practicing by adding more new things every day.
Some key tips for practising:
Practice in front of the mirror: it helps to build up confidence. Take a topic and speak on it in front of the mirror.

Record your audio: since you are your own teacher, record your audio in Japanese and correct your own mistakes.

Think Japanese: we tend to think hundreds of things in our mind but in our mother tongue. Switch to Japanese even while thinking.

Speak with friends: there must be some or the other person who is into the Japanese language, interact with them.

Form a community: make a group of people who share similar interests. You can have a daily discussion with them regarding the language. Share notes with each other, do some group activity, and start learning.
Conclusion:
Following all the tips properly and encouraging yourself to do the hard work it takes to learn a new language, you will be able to learn Japanese. It will be challenging to learn it without the help of an expert but you can still achieve some level of learning.