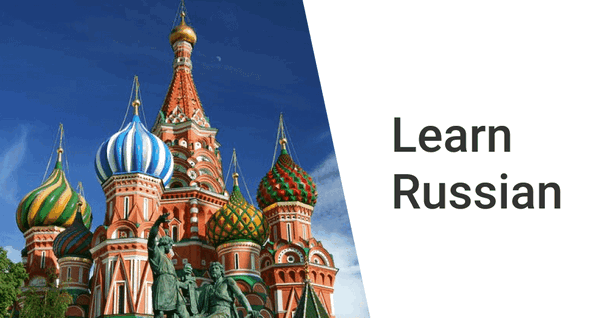 Introduction:
Well, I think the best way is through situations and phrases. If you have associations, usually it helps a lot. I would recommend surrounding yourself with Russian as much as you can! Read, listen, watch everything in Russian. And also, I just wanted to mention, from my experience, when foreigners come to a Russian-speaking country, the process of learning the language goes so much faster. So I would just take it easy, decide, what areas and situations you will definitely deal with, and concentrate on them. And when you get there you will learn a lot faster!
Here is the list of materials I like – that will help you surround yourself with Russian:
My husband and I have a YouTube channel where we teach Russian vocabulary and grammar and also talk about traditions, culture and important things to know before coming to Russian-speaking countries. Also, you can write any question you want in the comment section below and we will answer it for you! If you are interested, here is the link 🙂
But there are so many different resources online out there today 🙂

Online Russian Lectures
Universarium: Taking a course designed for native speakers is an opportunity to progress to a higher level in a natural way (the way we did it in college) through studying subjects like maths, literature and science. Universarium is the first Russian MOOC platform. Currently there are 84 courses available. I'd recommend you to check out these ones.
Lektorium: A good collection of lectures on academic subjects.

Nowchpok: A YouTube channel with awesome animated videos answering curious questions, such as "why do we laugh, kiss, blush?" Good training for getting used to fast Russian speech.
Russian Music
Lyrics Gaps: Here you'll find a useful way to practice your listening skills with Russian songs. Listen to a song and fill the gaps in the song lyrics.

Songs with Lyrics and Translation: Head over to YouTube to sing-along to some well known Russian songs.

Disney Songs with Russian and English subtitles:
I love listening to Disney songs in any language. This is a special playlist of songs that have Russian subtitles.
Disney songs playlist: Even more Disney songs in Russian.
Popular Songs with Lyrics: A number of music videos of popular Russian songs together with lyrics.
Russian Podcasts
A Spoonful of Russian: A podcast for beginner and intermediate learners.
Learn Russian Step by Step: The perfect podcast for beginners. It does what it says – taking you through Russian grammar and vocabulary step by step.
A Beginner Course of Spoken Russian: Simple dialogues recorded in two voices and easy stories with comprehension questions.
Ochen po russki: This podcast is a must for those interested in Russian slang.

Speaking Russian: A beginner podcast suitable for those looking to pick up some basics before a trip to Russia.

RusPod: A fantastic podcast for the beginner and elementary level. The website is user-friendly and provides perfect supporting materials.

Russian Made Easy: A good podcast for English speakers just beginning to study the Russian alphabet.

Survival Phrases: Eighteen short episodes to listen to on your flight to Russia.

RussianPod101 A famous and professional podcast from RussianPod101 that Lauren of Fluent in 3 Months used in her Russian mission.

Russian Podcast: This is a treat for intermediate learners. The host creates dialogues on a variety of topics and explains new words and expressions. The accompanying PDF guides are free.

A taste of Russian: A great podcast for learning informal language and slang. A must for intermediate learners.

Russificate Podcasts: Advanced learners welcome! Russian idioms, proverbs, poetry and much more.

Business Russian Podcast: If you're learning business Russian and have reached B1 level, these podcasts are for you.

Shkola zhizni Podcast: Podcasts on all sorts of topics from an online Russian magazine targeted at Russians.

Airing Pods: Over 30 Russian podcasts to choose from.
Russian News
News in Slow Russian: The only source of news in easy and slow Russian. Unfortunately, new content hasn't been posted for a while. Nevertheless, it might be useful, if you'd like to understand Russian news programmes.

Echo of Moscow: Russia's best news radio station.

Radio Potok: A collection of many other Russian news radio stations.
Russian AudioBooks
Loyal Books: Russian books and poems recorded by volunteers.

Auguo: Pearls of classic Russian literature for reading and listening to online.

Listening Gallery: A collection of Russian poems with translation into English.

My Chekhov: Listen to and read the best short stories of the renowned Anton Chekhov

Anna Ahmatova: Audio poems of best Russian poetess of the 20th century.

Asbook: A huge collection of modern audiobooks and radio shows.