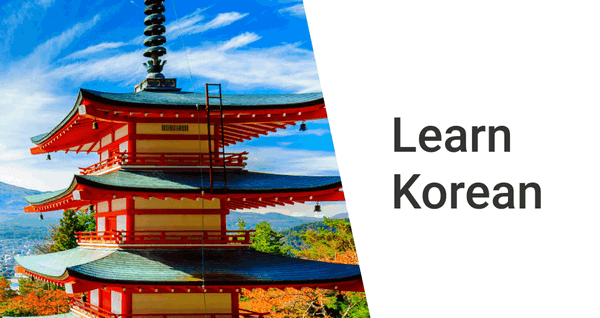 Introduction:
Korean is an East Asian language spoken by about 77 million people, mainly Korean, as of 2010. It is the official and national language of both North Korea and South Korea (originally Korea), with different standardized official forms used in each country. It is a recognized minority language in the Yanbian Korean Autonomous Prefecture and Changbai Korean Autonomous County of Jilin Province, China. It is also spoken in parts of Sakhalin, Russia, and Central Asia.
Study Tips for Making the Most of Learning Korean Online:
Make a schedule and stick to it.

If you enrolled in (and paid good money for) a course that holds class every Tuesday and Thursday from 6:30 to 7:30 p.m., how often would you miss a class? I'm betting you'd have next to perfect attendance. The same should go for online learning. I highly recommend setting aside about an hour of study each night to learn Korean with websites. And yes, at a certain level, watching your favorite Korean movie, whether you're renting or using Netflix, totally counts.
Keep a notebook.

Nothing helps you remember how to do something more than physically writing it down, especially if you need to learn Hangul, the Korean alphabet. Oftentimes, you may have the option of doing little exercises. Either print them out or use your notebook to write down your answers.
Find somewhere you can talk.

You need to be able to repeat after the virtual teachers at some point or sound out new vocabulary. Make sure you have space where you can do this.
Use something to warm up your screen

. Huh? Okay, hear me out. Don't your eyes get tired after staring at a screen for too long? Mine certainly do. Downloading software or using a plugin that "warms" up the blue screen will make studying and reading online much easier. 
Resources to learn business Korean:

The Bangalore-based educational platforms offer a wide range of language learning opportunities at your convenience where all are where the choice is yours. The platform is exclusively online. You can get a classroom-like atmosphere from here with lively interaction from the language expert and your classmates. The classes are of two types, Group webinar class and to one class. The duration of the courses is 30 min per class. The minimum number of classes that you can take is 30 classes. It can be increased according to your preference.  You can take the group class provided by Multibhashi or, if you prefer learning alone then you can take one class also. The fee structure of both the classes is different. The timings of the classes are also flexible and are up to you to decide. Plus point here in Multibhashi is that you can take a free demo class before deciding where to join. The result will be satisfactory! 
 Langintro
 Langintro.com is a basic website to learn the Korean language. There are various topics available on the Korean language homepage. These topics include Korean alphabets, conversational phrases, vocabulary, numbers, grammar, etc. Most of these topics are supported by audio playback. The study material is pretty easy, and clear to understand.
HowToStudyKorean
HowTo StudyKorean has very rich, and extensive content to learn the Korean language online. This website has more than 100 lessons in the Korean language. These lessons start from the basics of the Korean language. The first few lessons will teach you about the Korean alphabet, vocabulary, phrases, and pronunciation. The later lessons teach you Korean grammar, sentence formation, and other advanced topics. This is one of the best places to learn the Korean language.
DigitalDialects
Learn Korean online efficiently with the help of DigitalDialects. The resource to learn the Korean language is divided into different modules. These modules will teach you Korean numbers, vocabulary, days, months, etc. Few of the modules are audio supported. Different language games are also available on this website to help you strengthen your Korean language skills.
L-ceps
L-ceps.com offers free basic resources to learn the Korean language online. The course has 10 lessons with the translation of various common words, and phrases. These lessons include an introduction, colors, food, numbers, clothes, family, etc. The website is totally supported by audio playback, which makes the Korean language very easy to learn.
Memrise
While Memrise isn't exclusively a Korean study site, it has a ton of Korean sections from which to choose. If you're an absolute beginner who still needs to learn Hangul, head here to begin learning pronunciation.
Choose "Courses," go-to "Korean" and search for "A Lesson Hangul." Start practicing and listening to the sounds. Using multiple-choice quizzes, you'll learn the alphabet and even vocabulary words in no time.
Finally,
Well, there you have it! 
A collection of amazing resources for learning business Korean to bring you from total beginner to fluent speaker.