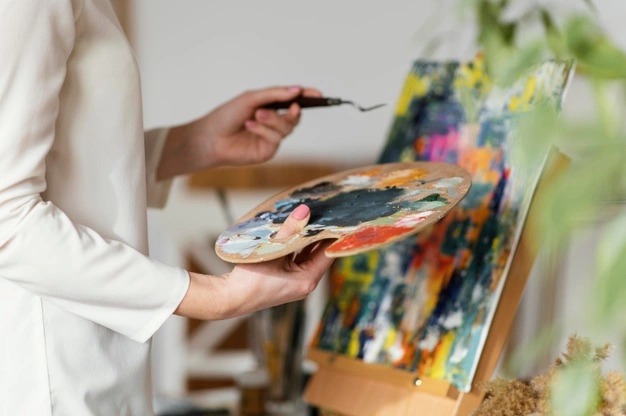 When it comes to online art classes and art schools, it really is true that you get what you pay for, and there's no time like the present to commit to a course. Decide to invest in high-quality tuition, delivered by leading professionals, and you'll soon find your ability as an artist improving by leaps and bounds. Keeping your mind and body sharp is important throughout our entire lives, but it becomes even more important as you age. While staying physically fit is important for your health, finding a creative outlet keeps your mind strong while also expanding your horizons. Painting provides a fun, new hobby that sharpens your mind and delivers numerous health benefits.
When choosing the right art class for you, take into account your current skill level – beginner, intermediate or advanced – as not all classes will be relevant to your level. Also, check who's teaching the course, and what their credentials are. That said, just because they're university-level tutors may not mean their classes are amazing, or vice versa if they're not; so it's always worth checking out the reviews and testimonials on their site. 
In this blog, we will discuss where can you find a good website for painting lessons:
The right art class for you!
Skillshare – Skillshare is a learning community where anyone can take or teach a class, and it specifically focuses on "creators and makers." This runs the gamut of subjects, which are often taught by professionals at the top of their field. Start by browsing their classes based on subjects you want to learn. You can "Save" classes for later, so if something looks interesting, add it to "Your classes" queue.

Masterclass – Masterclass has over 80 courses taught by world-class experts in their field. So that means indulging in a photography workshop by Annie Leibovitz, a cooking seminar with Gordon Ramsay, or a filmmaking masterclass with Martin Scorsese. From writing to music to design to sports to business, Masterclass has topics that hit on most people's interests. You can either sign up á la carte for an individual Masterclass or purchase an All-Access Pass, which gives you entry into any course.

Bloom and Grow – The course curriculum includes Drawing using shapes, numbers, dot paintings, animal and human drawings, Pattern paintings, Resistance paintings. Children will  learn to understand compositions, proportions, color schemes and many fundamental aspects of creating a simple art work. The teaching process used for the classes is kid-tested and will be step-by-step but will leave enough room for your child to bring in her/his own creativity to the projects.

Youtube – Youtube has loads of video tutorials on drawing, painting, graphic design, you name it. The best part: it's free! I typed in "learn to draw" and there were nearly 20 million results. Be specific with your keywords and you'll have no trouble finding the perfect resource for learning new skills.
There are many more reasons to learn to paint and I am sure you have your own motivation to learn. There are thousands of websites and YouTube channels with tutorials for beginners. All you need to do is keep focus and choose the best website for you. You can also choose the best website for yourself by checking specific types of painting activities. We hope that through this blog we were able to help you.