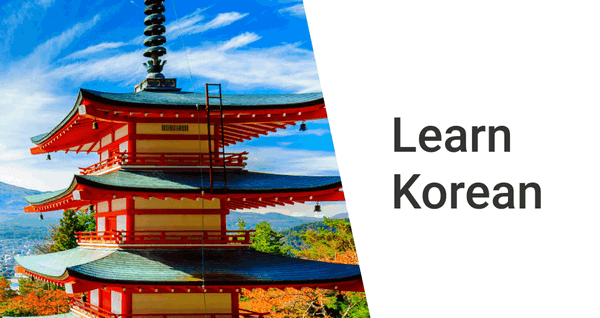 Introduction-
In today's world, creating an immersive experience using online tools is absolutely a reach within the people. Based on your language level and the level of experience that you are searching for, online programs can make a huge difference in your journey to learn the Korean language.
Here are the online tools to learn Korean online from 0 to advanced
It offers several Korean courses that will help you to learn Korean without you actually studying it.
If you did not wish to study with a book and prefer (virtual) human interaction, this online course covers the basics of Korean communication so that you will converse without much effort and in no time. 
This is fully video-based which guides you through the Korean language in step by step process using pattern images and useful tips.
Immersion is the key to learn Korean; by engaging with its many forms and you will gain a strong and up-to-date knowledge of the language. 
FluentU uses a variety of multimedia content that makes the real-world language easy to learn. Whenever you feel to learn your language, you can do so with FluentU at the tap of a finger.
This is perfect for travelers, if you are getting ready for a trip just look into this to cover the basics in no time. It offers an introduction to the Korean language and helps you to learn all the essential words and sentences.
It helps you to quickly learn new words by connecting words with their Korean writing, drawings, and audio. This includes 17 lessons ranging from everyday expressions and feelings. 
This site explains useful words and daily Korean expressions using English, Hangul, and Romanization of Korean characters. The site also helps in reviewing words in your free time and going back on the site to test yourself!
This online portal is an amazing resource to help you prepare for an intense university course and with this, you will acquire the basics very quickly.
It covers several levels of fluency, from absolute beginner to advanced-intermediate, where it provides a huge database of very effective study plans. 
It is entirely free to use and highly interactive, which is based on the principles of Sogang University's Korean language method, which places on conversational skills and speaking. It stimulates all your four skills writing, reading, listening, speaking.
This site gives you a strong curriculum using different varieties of multimedia content for purchase that facilitates your Korean learning experience. It is divided into nine levels of 30 lessons each, where the site covers all the essentials, from known words and idioms to simple grammar structures.
and essential phrases that you use every day. 
This uses a step-by-step approach in each lesson which consists of an mp3 file with free supporting PDFs and practice exercises.