Introduction
Arabic is the same way. The path of learning Arabic won't be easy or quick. But by learning it, you'll challenge yourself, sharpen your mind and your language-learning skills, and perhaps learn something about the language you yourself speak. And you'll be opening up opportunities, as well: you might find yourself, down the road, with the opportunity to speak with some of the 300 million people who claim this language as their own. Or you might get to travel to one of the 25 countries where Arabic is spoken, or you might discover the beauty of classical Arabic poetry. Or you might even just get the opportunity to greet your neighbor in her native language, and perhaps make her feel just a bit more welcome. So the question isn't whether or not it's worth it to learn Arabic. The question is whether or not you're ready for this exciting challenge.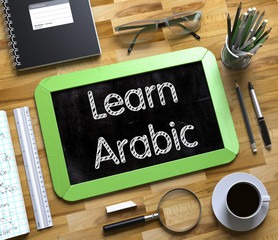 Few Factors:
1. Alphabets 
Arabic has 28 consonants (English 24) and 8 vowels/diphthongs (English 22). Short vowels are unimportant in Arabic, and indeed do not appear in writing. Texts are read from right to left and written in a cursive script. No distinction is made between upper and lower case, and the rules for punctuation are much looser than in English.
2. Grammar- Verb/Tense:
Arabic has no verb to be in the present tense, and no auxiliary do. Furthermore, there is only present tense in Arabic, as compared to English, which has simple and continuous forms. These differences result in errors such as-
She a good teacher,
When will you come to Germany?
3. Writing and pronunciation
Arabic has an alphabet that's different from what's used to write English. This is what written Arabic looks like:
The Arabic alphabet is both beautiful and challenging to master. Here are some of the things that make reading and writing Arabic difficult for someone who grew up speaking and reading English:
The language is written from right to left. This is difficult both conceptually and technologically — most computer systems were developed for left-to-right languages like English. Letters change shape based on whether they're in the beginning, the middle, or the end of a word. See, for example, how the letter ب changes shape depending on its position in the world.
(Don't forget — read right to left!)
4. Why learning a "hard" language is worth it!
For the reasons listed above, among others, Arabic is a challenging language to learn. If you're an English speaker, you'll need to spend more hours studying Arabic than you would studying Spanish to get up to a similar level.
But a harder language is not an unlearnable language. First, Arabic vocabulary might not be as difficult for an English speaker as you'd think English and Arabic actually share some vocabulary.