Eighteen is a beautiful age blossoming towards a responsible life, where you, a high school/college graduate are excited, nervous, scared, happy, angry, all at the same time. While you are still trying to decide what matters to you, between school, family, friends, errands, you decide to pursue learning French! And now, you want to become fluent and ready to communicate as fast as possible.
To help you achieve this, I have compiled a list of five basic approaches to learning French and they include:
Learning through complete French immersion, Learning through translation, Grammar-based learning, Communication-based learning, and Vocabulary-based learning.
Forget the native language and Immerse yourself in French!
The Immersion Approach is one where one takes a plunge into the French language and culture by traveling to a French-speaking country such as Quebec, Canada, or certain countries in Africa and the Caribbean spending an extended period of time, living your day-to-day life in French.
Since Immersion Approach works only for those who don't like formal study, or have time and money to spare, or want to learn a language in its natural environment or are outgoing and ambitious and wish to use the language on a daily basis while remaining connected with native speakers, all within a very short period of time, there's also an alternative for others who find to the travel Immersion Approach complicated, expensive, daunting, intimidating and time-consuming, and stressful owing to initial communication barriers and culture shock, despite helpful native French speakers! It is called the Personal Immersion Approach when you learn the language by dating or becoming close friends with someone who speaks French.
It's natural, not all of us have the time, money, and freedom required to leave everything and travel to France to learn the language. 
10 great ways to immerse yourself in French wherever you are:
Find a conversation partner or join a conversation club – If you really want to immerse yourself without leaving home, you need to find a conversation partner – a native French speaker who is willing to help you practice. Search the Language Exchange Apps such as Tandem or HelloTalk, for meetups, clubs, or partners through local, online, or social networks. If there aren't, consider starting one!
Volunteer in French. Get involved in your community with people who speak your target language. Schools, nonprofit organizations, libraries, places of worship, medical clinics, immigration services, ESL classes, to meet some native French speakers both to practice and make a difference.
Practice French every day. It's much better to study for 15-20 minutes each day. If the First Golden Rule of language learning is practiced every day, then the Second Golden Rule is not being afraid of making mistakes. Practice aloud Fearlessly not just study! Studying is when you simply learn new grammar, expressions, or vocab from a textbook but Practising is when you take this French knowledge further and try it out in the real world. Read for pleasure rather than focusing on short passages and studying them in minute detail or reading copiously. Learn the difference between intensive reading and extensive reading.
Go shopping in French. Seek out any local immigrant community that speaks French and shops they use. Take over running errands at home and visit these shops to be forced to read some French labels, besides finding a possible future conversation partner.
If you don't have a learning buddy, you can practice by speaking to yourself or your pet! Listen to free podcasts! 
Label things in your home and study. Put French labels on the things you regularly use such as stationery, books, etc. to improve your vocabulary. Change your device language settings, your social and online media language settings to French! This is an excellent way of making French a part of your everyday life.
Watch like a local and talk like a local! Start by watching movies, TV, or program in French, with English subtitles picking simpler easy to understand slow speech titles, from online searches or leads from native French friends. Once your French proficiency progresses to a higher level, you may switch to suitable movies, TV, and radio programs for native speakers. You could also try answering dialogues in the program."A young learner once explained that every night, when he watched TV, and people on TV spoke, he answered them back as if they were talking to him to improve his proficiency!" When posed with a question in French never try to answer in monosyllables to impress. Native speakers may use that but you're not one and you need practice. So always speak in full French sentences.
Keep up on hot news and current events in French-speaking countries to be able to start some great conversations, besides improving vocabulary and cultural knowledge. 
Practice writing through a journal that can be used to take notes, make a vocabulary list, internet slang, commonly used slang, about your day, or simply keep track of your French learning process. Create a vocabulary notebook for yourself the classic way!
Have fun. Pick up reading as a habit. Start with the French version of your younger sibling's books. Download some French hits. Search for games in French to play or connect with French-speaking players when playing. Play French board games with fellow learners or native speakers. Lookup for French blogs and videos related to your hobbies.

Learn from apps 
Duolingo: Continuously improve your French with seriously addictive games
Memorion is a classic flashcard app where you can acquire basic French vocabulary of around 1,000 words.
Quizlet is a general flashcard app that works as a community.
The app "Pas à pas" (English: "step by step") is a completely intuitive app French, and was developed for French beginners by the language school CAVILAM and Alliance française that guides you step by step by using different visuals which helps you to learn fundamental French words and phrases.
Français Authentique is a serious app for more advanced French language learners that provides you with authentic videos, audio, as well as PDF transcriptions in French, covering extensively about the French language, Francophone culture, important expressions and grammar.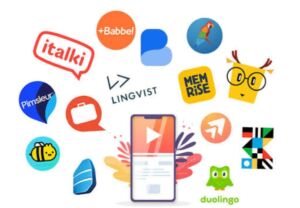 Finally, you must remember that while every method has its own advantages and disadvantages, it is important to note that what is fast for one learner may not always work fast for another. However, one method that works for everyone is through complete French immersion.