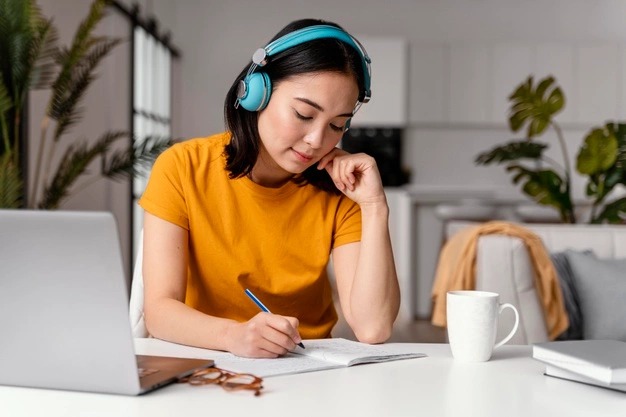 Japan has a lot to offer: great food, interesting culture, and wonderful sightseeing. As a result, lots of English speakers want to learn Japanese. Japanese isn't always easy, not only are their new phonetics; the written language consists of thousands of intricate characters. Thanks to the internet, it's easier than ever to learn whatever you want! You no longer have to go to Japan, to university, or even to night school to learn Japanese. You can get all the lessons you need online – and mostly for free too!
In this blog, we'll discuss the 11 great Japanese learning tools that will help you get better at Japanese in no time. So, without any further delay, let's get into the learning tools:
1. Imiwa dictionary -
Your dictionary is the tool you will use for fun while learning any foreign language, so you need to pick a good one! Now there are even digital dictionaries available that you can check out here. Imiwa app makes Japanese learning really easy so do give it a try!
Or if you love paperbacks and hardcover copies, then we recommend getting a small copy that you can take anywhere with you without any fuss.
2. Rikaichan -
As far as Japanese learners are concerned, it is easily the best plug-in ever! With a single click, users can activate a plug-in that allows them to browse Japanese websites with instant and fast access to an extensive Japanese- English dictionary. If you put your cursor over the word you are struggling to understand, the plug-in will throw up its meaning, and in some cases even break multiple Kanji words down for you so you can see what the individual characters mean.
3. Real Japanese literature -
Textbooks are all well and good but you will eventually need to start exposing yourself to real Japanese. And if trips to Tokyo is not on the cards just yet, then reading alongside listening practice is of course a great way to do that. Manga written entirely in Japanese can be a great way to learn the language. Japanese books meant for small children are ideal for beginners.
4. Reading the Kanji -
Kanji study is rarely fun, but this website makes a game out of it, and it is not just effective but surprisingly addictive. After selecting your level, the site presents you with a sentence containing target Kanji characters as they might naturally appear in real-world pieces. It is very simple for new learners of Japanese.
5. Take a Class or Computer Course -
If you don't know any Japanese, a structured class is the best way to start. Find teachers in your area, or sign up for Japanese classes at a local community college or university. If taking a class isn't an option, you can buy a language learning program. Applications like Multibashi Learning Lessons Solutions are an excellent solution. They offer online classes in multiple foreign languages.
6. Listen to Language Podcasts -
There are lots of Japanese podcasts available online. They range from beginner to advanced. For best results, make listening to podcasts a daily part of your routine (listen during your commute or while you do chores). It will help you learn the language much faster than anyone else. 
7. Watch Japanese TV with English subtitles -
Watch anime or Japanese movies with English subtitles. Write down any words you don't know, and translate them in a translation app. Like Google Translate, to find out what they mean. 
8. Get a workbook -
 Workbooks can help you learn to write Kanji characters and understand their meaning. Get a workbook and dedicate a short amount of time to practice each day, even if it's only 20 minutes. 
9. Use Flashcards -
Use flashcards to help you memorize Kanji. You can make your own, or use a website to help. Wanikani is a great flashcard site for Kanji memorization. 
10. Listen to Japanese songs -
Listen to some Japanese songs and focus on pronunciation and meaning. It helps to listen to the songs multiple times. Japanese places usually play songs in their native languages.
11. Write down everything -
You must write down whatever you feel is new to you. Writing down everything will help you track your progress and you'll have all the words at one place.
These are 11 great Japanese Learning Tools you can use to improve your bilingual skills. We hope that you're able to find your own way to learn Japanese as fast as possible. 
Just in case you also want to learn Japanese alphabets – Learn Japanese Alphabets Here!