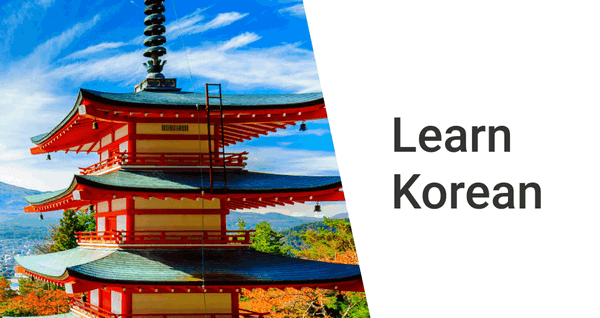 Korean is the official language of Korea and the Democratic People's Republic of Korea. This language is spoken by more than 75 million people around the world.
Importance of the Korean language

The importance of the Korean language in the modern business world has many benefits, especially South Korea on a modern economy. South Korea is one of Asia's productive economies ranked the 12th largest economy in the world.
Why you need to learn Korean

If you want to get an education or work in Korea, you need to know Korean. It has its main branch to many large multinational companies, such as LG, Samsung, and Hyundai.
Learning Korean can be is regarded as one of the most difficult languages. You should know that Hangul, the Korean alphabet that can be learned in less than an hour. By practicing every day you can learn Korean and its unique pronunciation
Learn Korean to enjoy all the entertainment industry, with millions of followers throughout the whole world as it offers a lot more in technology, architecture, and cuisine.
You will be able to understand all the famous Korean dramas and movies that are so popular nowadays and you will know the lyrics of the Korean songs.
5 best way to learn the Korean language

Dongsa is a learning App that helps you to learn Korean verbs. You can access these through Apple and Android products, this app teaches all of the different Korean verb conjugations, and it can also help you to improve your Korean writing skills.
You can unlock more features on this app for an additional cost. This Korean learning app will help you learn basic Korean verbally
How to Study Korea site is an excellent resource for those who prefer more reading and writing versus listening. It is organized thoroughly into units. In each lesson, they will introduce you to new vocabulary before thoroughly explaining a grammar point, later they will provide you multiple sample sentences for every situation to help you practice it.
This site would be the most useful.
With the online tutor, you will be able to repeat after the virtual teachers at some point or sound out new vocabulary. 
Multibhashi is an online website that has a personal tutor to teach you language at your flexible timings
This method will help you to remember how to do something more than physically writing it down, especially if you need to learn Hangul, the Korean alphabet. 
In this, you may have the option of doing little exercises and you may even print them out or use your notebook to write down your answers.
Make a schedule in your time and stick to it. set aside about an hour of study each night to learn Korean with websites. 
Watch your favorite Korean movie, with or without subtitles whether you are renting or using Netflix, that totally.
Conclusion:
These methods will help you to learn the language when you want to focus on—listening, writing, speaking, or reading. Good luck!!!