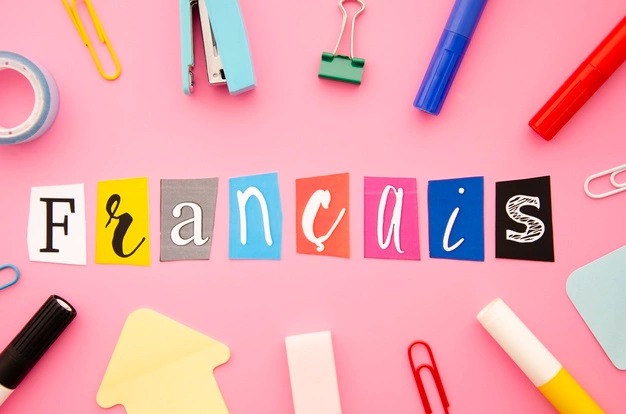 Introduction:
French  is a Romance language of the Indo-European family. It descended from the Vulgar Latin of the Roman Empire, as did all Romance languages. French evolved from Gallo-Romance, the Latin spoken in Gaul, and more specifically in Northern Gaul. Its closest relatives are the other languages d'oïl—languages historically spoken in northern France and in southern Belgium, which French (Francien) largely supplanted.  A French-speaking person or nation may be referred to as Francophone in both English and French.
French is an official language in 29 countries across multiple continents, most of which are members of the Organisation Internationale de la Francophonie (OIF), a community of 84 countries that share the official use or teaching of French. French is also one of six official languages used in the United Nations. It is spoken as a first language (in descending order of the number of speakers) in France; Canada (provinces of Quebec, Ontario, and New Brunswick as well as other Francophone regions); Belgium (Wallonia and the Brussels-Capital Region); western Switzerland (Romandy—all or part of the cantons of Bern, Fribourg, Geneva, Jura, Neuchâtel, Vaud, Valais); Monaco; parts of Luxembourg; parts of the United States (the states of Louisiana, Maine, New Hampshire, and Vermont); northwestern Italy (autonomous region of Aosta Valley); and various communities elsewhere.
There are five different levels of French fluency:

When it comes to learning anything new, especially a language, the speed, time, and proficiency that a person will pick up a language will vary.  However, to get a better idea of the time it can take someone to learn French; you can consult a French fluency scale.  There are five different levels of French fluency:
Beginner (A1): 

The beginning stage of French is also known as the "Tourist Class".  These people are limited with their vocabulary and grammar, but can speak simple greetings and phrases, such as: "Hello, how are you", "What is your name", or "How old are you".  They also know how to count in French, tell time, and can ask and speak about the weather.

Intermediate (A2-B1):

  A person who is intermediate in their French is able to construct various phrases and statements that deal with: time, weather, location, desire, and dislike.  They may still make some errors, but can generally understand native speakers when spoken to.

Advanced (B2-C1):

Those who are advanced in French are considered to be fluent.  They can understand different forms of media in French and can hold a conversation with native French speakers.  They can also easily construct sentences and use different tenses, such as past, present, and future in speaking.

High Advanced (C2):

  Individuals high advanced in the French language are basically fluent.  They can speak vibrantly, express themselves easily, and have no problem navigating through conversation, texts, and writing in French.
Below are some time table estimates of how long it will take to learn French as applied to the above levels:
Proficient: A2, B1
Very Proficient or Fluent: B2, C1, C2
Proficient in French through immersion:  3-6 months

Proficient in French through college courses / non-immersion: 1 to 2 years

Proficient in French through high school courses / non-immersion: 3 to 4 years

Very proficient or fluent in French through immersion: about 2 years

Very proficient or fluent in French through classes / non- immersion: 4 to 6 years
How to Learn French Fast?

Follow these easy steps to pick up French in a quick and easy manner.
Step 1:  Know your learning style.  Decide whether or not you want to learn French online, in a classroom, or by listening to audiotapes or a native speaker.  All of this will be dependent on the type of learning style that works best for you.
Step 2:  Aim to learn and memorize at least 30 words and phrases each day.  If you stick to this, in 90 days you will already know about 80% of the French language.
Step 3:  Learn the structure of the language of how the parts of speech work with each other.  Make sure you immerse yourself in French grammar and learn to speak with proper pronunciation.
Step 4: To better familiarize and immerse yourself in the language, start reading and writing in French.  These will help imprint words and phrases into your head for easier memorization.  Also, listen to things in French.  Download some French music, French movies, or French television shows and practice imitating or repeating words that you hear.
Step 5:  Start speaking in French, even if you feel embarrassed or do not think you know enough.  Everyone needs to start somewhere.  Speak on your own if this is more comfortable for you at first, but eventually aim to speak with someone who knows French themselves.
Practice, Practice, Practice
The answer to the golden question of: how long does it take to learn French will ultimately depend on you.  Practice as much and efficiently as possible, and you will be able to learn basic French in less than a year.  
Commit to Consistency
Think of learning a language like a workout regimen. Consistency is key. A 20-minute jog every day is better than a three-hour cardio session every two weeks.
The same goes for learning French in a year. You have to pace yourself and break things up into manageable chunks so you don't burn yourself out. You also have to keep up that regular practice so you don't lose what you studied the day before. Carve out a set amount of time each day to study French grammar, learn new words​ and dive into some listening​ practice. You can alternate which one you're focusing on to keep your learning varied and your motivation up.
Conclusion:
Everyone is different and some people learn languages faster or in different ways than others.
But if you are focused and are studying full-time
3 Months will get you functional in a language with enough to perform basic activities such as paying the bill, asking for directions, and basic introductions.
6 Months means you can have simple but interesting conversations. You should also be able to deal with some complexity and solve simple problems.
12 Months means you will have a conversation level of the language. Basically, you can get around, have friends and live using just French.
Of course, with learning languages, it is all very variable.