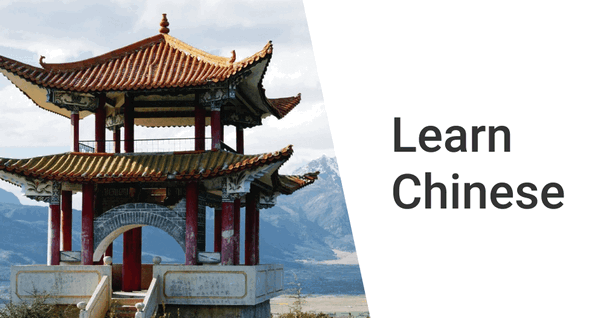 Introduction-
Chinese is a group of language varieties that form the Sinitic branch of the Sino-Tibetan languages, spoken by the ethnic Han Chinese majority and many minority ethnic groups in Greater China. About 1.3 billion people (or approximately 16% of the world's population) speak a variety of Chinese as their first language. 
The origin of Chinese comes from the discovery of the famous Oracle Bones and what is believed to be the earliest samplings of Chinese script. These bones date from the Shang Dynasty (1600-1046 BCE). With such a rich history, the Chinese has obviously undergone many changes and influences due to wars and cultural shifts. However, the language has taken these all in stride and continued to grow. 
How difficult is it to learn Chinese for an Indian?

If you are an English speaker first learning Chinese, the most difficult part may very well be the five tones. Since Chinese is a tonal language, the meaning of your words can change drastically based on the tone you use to pronounce them. 
Generally, how hard a specific target language for any particular person depends on a number of factors, including sociocultural and individual factors. 
It also depends on how similar your native language is to Chinese.
Chinese is difficult because of its tones and characters. If you know Japanese, you can learn characters faster. If you know Vietnamese or Thai, you can catch up with the tones easier. But if your native language doesn't have these elements, it will be very difficult.
Coming from a Western background, however, Chinese might seem especially difficult. Here are a number of reasons that I think are critical.
The writing system or Hanzi
An online survey that we have conducted shows that unsurprisingly, Chinese characters are the hardest part of learning Chinese. If you have a western language background, you will most probably never have had to deal with a similar system. The difficulty stems from two different sources: First, the characters themselves seem to be abstract, complicated and there are tons of them. Second, it is very hard to connect either the meaning or the pronunciation just by looking at the character.
Tones
Coming from a Western background, tones are another thing you probably have to familiarize yourself with. Chinese has five tones and the meaning of words may change dramatically when pronounced with the wrong tone.
Pronunciation
This one is not as hard as one might think when first listening to Chinese. In fact, many of the pronunciations are similar to for example the German pronunciations. Difficulties exist especially in pronouncing "Zhang", "Chang", "Qiang" or between "zi" and "ci". To get these right, you will probably need the help of a native speaker who can give you some precise guidance.
Grammar
Now, this is the best part about Chinese. The grammar is in fact really simple: For example, Chinese verbs always stay the same and do not change with tenses. The same goes for nouns which in a lot of languages change depending on which case you are using them.
In Chinese for example, to express past tense, generally, you simply add a "了" to the sentence and if you want to say something in the plural, simply add "们" to your pronoun. So while "我" means "I", "我们" means "We".
A Chinese specialty and probably one of the most difficult things about Chinese grammar are measure words. In Chinese, you cannot simply say three (三) books (书), but rather you have to say 三本书. The difficulty with measure words is that different nouns go with different measure words. But as a beginner, you can generally substitute all of them with 个 (even I do it).
Conclusion-
Chinese is deceptively easy and hard depending on your viewpoint. For basic communication probably not so hard. For true fluency really quite possibly the hardest language in the world.
Chinese isn't hard to speak, especially Mandarin. Grammar is easy. Pinyin is helpful. Pronunciation and tones are surmountable.

Computers and smartphones have really helped things sooooo much. I used to have to look up characters by strokes in a paper dictionary just 7 years ago.

True Chinese dialects are basically different languages, and much much harder to boot. I dare someone to find me a foreign-born native level speaker in any of the main Wu, Min, Yue dialects.

The writing system is ridiculous with two versions depending on whether you're on the Mainland or not. I learned the simplified and now back in the States everyone uses Traditional. Argh.
We have managed to implement a strategy into a new kind of Chinese learning app. If you would like to learn more or know more, you can check out it on at Multibhashi. It  is an ed-tech platform that facilitates online learning in an effective and innovative manner through the medium of audio-visual training sessions and app-based learning. Whether you wish to learn in a group or demand complete attention from the instructor,they have both the options to suit your learning needs.
So why are you waiting?? Start learning!!!
Good Luck!