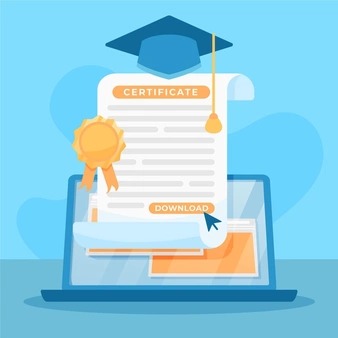 French is one of the most spoken languages in the world, a powerful language of business, and a beautiful language to learn. Whether you want to travel through France, improve your French for school, or impress a special someone with the "language of love", you might want to get certified, so that you can be proficient in the most important aspects of French, from French numbers and grammar to French phonetics, accents and social conversations with friends.
There are several French exams that certify your level of mastery of the French language. These diplomas can be a validation of your expertise and a real advantage professionally, especially since the French exams such as DELF/DALF are internationally recognized.
Certifications available in French:
1 – Le Diplôme Initial de Langue Française (DILF)
This is a certification of French as a foreign language that evaluates your level when you begin to study French and corresponds to level A1 of the Common European Framework of Reference for Languages, put in place by the Council of Europe. It constitutes the first step towards the DELF and the DALF.
This certification, offered only in French territories, is delivered by the French Ministry of Education. The exam evaluates the four language skills: listening, reading comprehension, Speaking, Writing. Taking an exam preparation course will best prepare you for the DILF and in addition, give you the benefit of the advice and guidance of a French-language teacher.
If you wish to register for the DILF, you need to choose and contact an exam center. If you have questions or need more information, you can also contact the DILF office at dilf@ciep.fr
2 – Le Diplôme d'Etudes en Langue Française (DELF tout public)
An official diploma, also given by the French Ministry of Education, evaluates and certifies the French language skills of foreign applicants and French citizens from non-French speaking countries.
The DELF is made up of four diplomas, independent of each other (meaning that you could take level B1 even if you have not taken level A1 or A2) :
A1/ A2 corresponds to a basic level
B1/ B2 corresponds to an intermediate level
At each level, the four language skills are evaluated. Here is a short summary of what can be expected at each level :
DELF A1 is the first level. You are capable of simple interactions. At this level, you must be able to introduce yourself and ask and answer questions about personal details such as where you live, people you know, and things you have.
           Duration of evaluation: 1h20
DELF A2 is also a basic level. In addition to the skills of A1, you are able to perform simple tasks of daily life.
          Duration of evaluation: 1h40
DELF B1 is an intermediate level. You are considered an independant user capable of managing familiar situations encountered in work, school, leisure, etc. You can deal with most situations that may arise while traveling in a French-speaking country. You can describe experiences, events, dreams, hopes, and ambitions and briefly give reasons and explanations for opinions and plans.
           Duration of evaluation: 1h45
DELF B2 is a higher degree of independence. You can understand the main ideas of a complex text on both concrete and abstract topics, including technical discussions in your field of specialization. You can converse with native speakers with a degree of fluency and spontaneity. You can explain a viewpoint on a topical issue giving the advantages and disadvantages of various options.
    Obtaining a DELF B2 level certification serves as the French level test for admission to a French university.
          Duration of evaluation: 2h30
3 – Le Diplôme Approfondi de Langue Française (DALF)
The DALF consists of two independent diplomas, C1 and C2, corresponding to an experienced usage of the French language.
At the level DALF C1, the user can express themselves fluently with ease and spontaneity. Their vocabulary range is wide, the speech is clear and well-structured.
          Duration of evaluation: 4h
For the DALF C2, the candidate demonstrates precision, fluency, and ease in their manner of expression with the French language. They are able to use the French language for academic and advanced-level purposes.
          Duration of evaluation: 3h30
These French exams are often requested for some school curriculum and it is important to remedy this by taking an exam preparation course or more specifically a DALF exam preparation course. You would truly benefit from a teacher that would explain to you the methodology that differs from what you have worked within the lower levels of the French language. You will need an understanding of French logic and what is expected of you. Thus, you should not only study the French language but really immerse yourself in a methodology that will be useful for all higher education, especially if you want to integrate into a school in France.
4 – Le Diplôme de Compétences en Langue (DCL)
The DCL is a national professional diploma reserved for adults and meets the specific needs of the professional world. It specifically assesses the skills in situations that simulate as close as possible the reality of the working world.
The DCL includes a mention corresponding to the different levels of the Common European Framework of Reference for Languages, put in place by the Council of Europe.
5 – Le Test de connaissance du français (TCF)
It is composed of three compulsory tests (oral comprehension, mastery of language structures and reading comprehension) and two additional tests (oral and written).
The three compulsory tests consist of multiple-choice tests of 76 questions with only one correct response of the four offered. The questions are presented in order of increasing difficulty, ranging from level A1 to level C2 in the Common European Framework of Reference for Languages.
For listening, documents and records correspond to actually spoken communication that can be heard in France. Likewise, for reading comprehension, it favors authentic documents.
In summary, this French exam aims to assess you in an environment that approximates the situations you face in everyday life in France.
Whatever your level with the French language, it is better to follow an exam preparation course than to attempt to study for the French exams on your own because each exam has its special characteristics and methodologies that can be difficult to discover and understand alone.
In conclusion, to put the odds of success on your side, it is recommended that you prepare before taking the French exams. This is true for the DELF B1 and B2, and even more for the DALF C1 and C2. Indeed, the methodology is an integral part of these examinations, including tests for oral and written production.
Happy Learning!!