Introduction
One of the most difficult parts while learning any foreign language is listening to skill and this is especially true for Arabic language learners.
In general, listening seems to be easier than speaking. In fact, it takes a lot of patience and practice to comprehend when you hear someone speaking in the language.
In this post, we will discuss tips that will help you to improve your listening skills in Arabic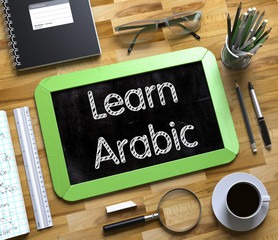 Leartn Arabic:
1. Improve your vocabulary
One good practice to improve your listening skills is to start building your vocabulary and learning as many common phrases as you can.
Without context or grammar rules, learning tons of isolated vocabulary words seems to be odd. But this is really the best strategy for getting started.
Listen to advanced audio, even as a newbie, and notice that you can pick out words here and there. It is a huge, motivational confidence boost.
2. Be calm in listening
Be calm with yourself and if you do not understand a single word even after listening to your Arabic resources for quite some time. This happens in common with all when trying to learn a new language. 
Listening without understanding is similar to the ears with no sounds. Listen to the rhythms of native Arabic speakers. Listening will resurface when you are speaking, and you will notice recreating an authentic Arabic accent.
3. Think, think, and think again
It is important to understand everything that is said in your Arabic listening resources initially. Manage to understand and the parts you do with reasonable thinking.
While trying to think what is being said, look for contextual clues such as the tone of voice that are used, the body language of the person during speaking, their facial expressions, background music and all the thing that you can latch onto.
4. Ask help with instructor
This is the most important part for those who are learning Arabic from an instructor, and for those learning Arabic when you are abroad.
Never get afraid to ask for help, even if you need to ask your doubts for it frequently.
If you feel a problem in understanding any part, then do not be restricted away from asking the speaker or instructor to help you to understand each word or phrase over and over again. 
Ask your instructor to repeat any part for you or to say it in a different way or to speak more slowly. A good listener always does not get fear asking for help when it's really needed.
5. Make use of online resources
Use online resources to improve your Arabic listening comprehension skills by selecting the fantastic collection of Arabic audio, that will help you get further in your daily practice of listening.
Start to concentrate on strengthening and growing your understanding of general contexts and themes, then later focus on that details. For instance, if your online resource has an audio file of a textual passage, spend time to acquire yourself with the background of that passage like Who wrote it? Who published it? What will be the purpose of writing this?