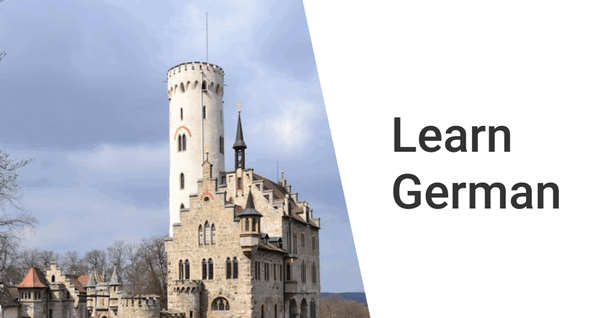 Introduction-
The German language is a West Germanic language mainly spoken in Central Europe. It is the most widely spoken and official or co-official language in Germany, Austria, Switzerland, Liechtenstein, and the Italian province of South Tyrol. It is also a co-official language of Luxembourg, Belgium, and parts of southwestern Poland, as well as a national language in Namibia. German is most similar to other languages within the West Germanic language branch, including Afrikaans, Dutch, English, the Frisian languages, Low German (Low Saxon), Luxembourgish, Scots, and Yiddish. It also contains close similarities in vocabulary to Danish, Norwegian, and Swedish, although these belong to the North Germanic group. German is the second most widely spoken Germanic language after English.
One of the major languages of the world, German is a native language to almost 100 million people worldwide and is spoken by a total of over 130 million people.  It is the most spoken native language within the European Union. German is also widely taught as a foreign language, especially in Europe, where it is the third-most taught foreign language after English and French, and the United States. The language has been influential in the fields of science and technology, where it is the second most commonly used scientific language and among the most widely used languages on websites. The German-speaking countries are ranked fifth in terms of annual publication of new books, with one-tenth of all books (including e-books) in the world being published in German.
Start focusing on the core pillars of language learning to make quick progress with your German learning. By immersing yourself in the culture you can learn the language without a tutor.
Ways to learn German

Set up a schedule
The time taken to learn the language depends on the efforts you are going to make to boost your level of German.
You need to start practicing to learn every day! There are several useful apps and learning strategies to help you schedule daily lessons and you can find a learning pace that suits you. 
start a learning process with hourly lessons and spend 15 minutes a day learning in your schedule, make the most of this time.
Use apps for learning
Applications for learning will come in handy when you start learning German. If you are a beginner and want to learn basic German phrases and vocabulary you can use simple apps such as Multibhashi, Duolingo, Memrise. these allow you to study wherever and whenever you want.
These apps are great for a quick way to improve your German language skills. But in case if you are studying an app only for 10 minutes a day, you won't be able to progress quickly.  
Use flashcards
This will be perfect for language learners, where it has a card with information on it. If you want to memorize a particular word in German, you can use a flashcard word on it. When you flip the card you can see a translation into your native language.
Flashcards are important and make them a part of your learning journey. With Using flashcards, you can:
label all the items with German names in your home to see them every day;

learn new words and quiz yourself;

You can see that you can remember the words correctly.
Chat with native speakers online   
The best way to learn German is you have to practice regularly with others. You can choose 1-on-1 video chats to find a language partner who speaks German. Using your smartphone or computer, you can talk or write online to native speakers or learners from all around the world. 
Some of the tools you can use are the HelloTalk exchange app where learners can quickly find and chat with native speakers; the LextTalk chats app designed for language exchange; MyLanguageExchange to improve your speaking both with native speakers and language learners.
Listen to podcasts
Podcasts are an excellent way to add your listening practice to your daily routine and with this, you will find out more about German culture. 
Watch films without subtitles.
This will challenge you to understand the language without the crutch of relying on the translation. You may not understand words all of the time but as time goes on you will learn more and more. This can be a great way to build uncommon vocabulary, as you will get to hear the kind of language that doesn't come up in everyday conversation.
Read extensively.
Read everything you can get your hands on. Try to read at progressively higher levels, so that your vocabulary is being challenged. You can read from any source, but try to read sources that are likely to have good use of grammar and spelling. This will help you to learn the language correctly.
You can read online copies of German newspapers and magazines. Examples include Die Zeit, Frankfurter Rundschau, or Der Spiegel (which tends to be of a slightly lower reading level than the newspapers).
Make a German friend.
Making a German friend will give you the opportunity to practice your German, get advice on pronunciation and grammar, learn new words, as well as getting to know the culture. You can chat with them online, make calls over Skype, or you can try to find a local German 
Conclusion-
Initially, when you start to practice German, you will make mistakes. Be bold to make mistakes and learn German easily with these methods.