Learning Arabic 
Learning a new language is a fascinating adventure. It is a journey full of excitement, enthralling experience, occasional challenges, vivid illustration, unusual and unexpected encounters. To start with, let us explore three compelling reasons. First, the Arabic will set you apart from the crowd. 
Arabic is usually ranked among the top six of the world's major languages. As the language of the Qur'an, the holy book of Islam, it is also widely used throughout the Muslim world. It belongs to the Semitic group of languages which also includes Hebrew and Amharic, the main language of Ethiopia.
Learning Process
In today's globalized world, we all need to be skilled language learners. There are multiple incentives for learning a new language. The career scope in languages is undoubtedly the most important motivator. If you're wondering which foreign language to learn, then picking Arabic will immediately set you apart from the crowd. Learning Arabic takes effort and money, but more importantly, it takes time. In this blog, we'll talk about a few ways to learn Arabic language in India: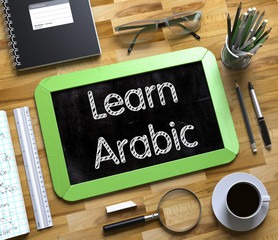 Ways to learn:
1. Talk and Listen to Native Speakers
You'll hear any linguistic teacher tell you this, no matter the language being learned: If you want to understand a new language, you can't just study on paper. You'll need to listen to native speakers. This is true for many reasons, the biggest one being comprehension skills. To listen to and communicate with native Arabic  speakers, try out some language exchange sites. These sites match learners with native speakers: you teach someone English (or your native language) and in return, they teach you Arabic.
2.  Watch Arabic Media
If you don't feel ready for one-on-one communication, you can still get some listening practice by watching Arabic movies, television shows and dramas as soon as possible. Listen to Arabic podcasts, music, and radio stations. You can listen to Arabic NHK News, for example. Or, try a fantastic language learning podcast like Arabic Pod101. YouTube is another great option for finding something to listen to! You also might like to read Arabic articles. Start watching Arabic shows, movies, anime, documentaries, etc. Netflix has tons of Arabic shows now, so it's a great place to start.
3. Use the Best Apps and Resources
There are so many apps out there that focus on daily lessons designed to fit the learner's pace. But if you want to really get a handle on Arabic in four weeks, we suggest practicing Arabic  and studying for 30 minutes a day at a minimum—aim for more study-time whenever you can! Arabic learning tools and apps allow you to study wherever you are. Make use of that commute or replace your morning newspaper for a month with these, instead.
There are numerous online language programs that can help you to learn and practice Arabic, such as Multibhashi for language learning.
Tofugu and duo lingo Seek out these free resources and make practicing Arabic a daily routine.
Also there are various universities in India that offers Arabic language courses 
4. Jamia Millia Islamia (Department of Arabic)
Take your pick of Arabic Language Courses at Jamia Millia Islamia. The Department of Arabic enjoys a high reputation in India and the Arab & Muslim world. To date, more than 100 scholars have been awarded or pursuing a Ph.D. in the Arabic program. The Delhi center's Arabic course reflects a high balance between classical and modern literature.
5. Zakir Husain Delhi College
Zakir Husain Delhi College holds the distinction of being in existence well before the establishment of Delhi University. The Arabic department, with its dedicated, competent, and committed teachers and student-centered language teaching methodology, offers a three-year BA program focusing on the study of Arabic language and literature. It aims at developing global proficiency in modern standard Arabic in combination with Arabic texts of the pre-modern period.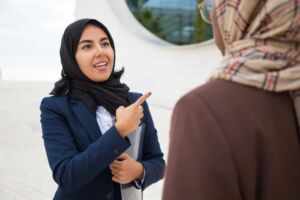 These are a few ways to learn the Arabic language in India. There is no right time or place to learn a second language, you just have to go with it. There are innumerous ways to learn any language, you just need to find the one that fits for you!