Introduction
Have you ever joined a course without a deadline? Have you ever thought about learning something without getting an insight into how much time would be needed for the learning? It is the same with learning a new language as well. As you start your journey of learning Arabic, you probably have a deadline by which you want to become proficient in the language. Even if you start with simpler and smaller goals, you would have a deadline. This brings you to the question, "how much time do I need to spend to learn Arabic? "
There is no one size fits all solution to this. As per the Foreign Service Institute, Arabic is placed in category IV which needs 2200 hours of learning. However, this may not be true for everyone because learning Arabic would depend on many factors such as your experience with another language, your native language, how much time you can spend learning Arabic, your resources etc.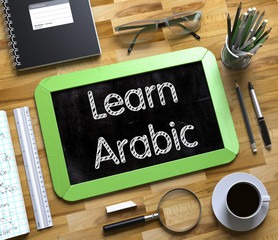 How much time do I need to spend to learn Arabic?
Taking the 2200 hours into account, if you spend ten hours every day you would need 220 days to learn Arabic. However, that may not be practically possible, even for an Arabic student. The time that you need to spend learning Arabic would vary based on your prior acquaintance with the language. As a beginner, you might have to spend more time when compared to someone who is already acquainted with the language.
The proficiency level that you want to achieve would also determine the time that you need to spend to learn Arabic. Learning the basics to sound polite and make a start is very different from achieving fluency in Arabic. If you are someone who is looking to become fluent in the language, you would definitely need to spend a good amount of time.  
If you have joined a full-time Arabic course, you would probably spend a lot of time in your day reading and learning through the course material. If you are busy with personal and professional commitments and are learning Arabic on a part-time basis, the time that you spend learning would be comparatively less.
Now according in me it is a good idea to spend a specific amount of time, maybe from half an hour to an hour every day, learning and practices Arabic every day.  However, just that time is probably not enough to achieve a good proficiency level. You can decide a specific time for learning Arabic which would include vocabulary, grammar, reading, and writing. However, it takes, continuous exposure to the language to become fluent in it
Spend enough time learning Arabic in an active and passive manner. Your active learning would include everything from a class to learning from books, practicing vocabulary, grammar, and other aspects like reading and writing. When it comes to passive learning, the more you immerse yourself in Arabic in the form of videos, movies, music, reading for pleasure, etc. would all indirectly help you in your learning journey.
Being consistent with your learning is equally important. It would make a huge difference if you spend an hour every day learning Arabic instead of just giving time to learning Arabic on the weekends. Consistently learning and practicing every day would ensure that you stay on track to making continuous progress. Rather than learning anything new you probably would keep reviewing or revising what you learned earlier if you are not consistent or practice on a daily basis.
Let us understand that irrespective of whether you spend an hour every day or learn in small chunks of ten to fifteen minutes five times a day, you need to specifically schedule your Arabic learning on a daily basis.