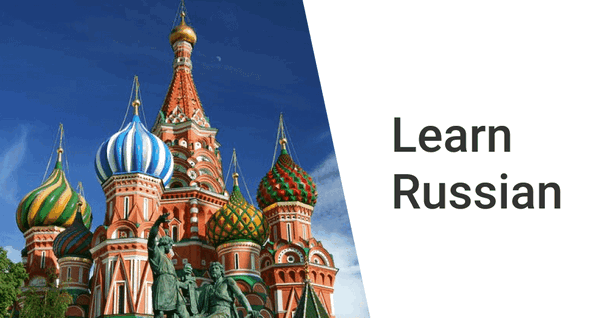 Introduction-
Russian belongs to the Slavic languages family and it's very similar to Ukrainian and Belarus languages. There are about 277 million people who speak Russian. The earliest known writing in Russia dates from the 10th century and was found at Novgorod. The main languages written on them in an early version of the Cyrillic alphabet were Old Russian and Old Church Slavonic. There are also some texts in Finnish, Latin, and Greek. In Russia, besides Russian, 35 languages are recognized as official in various regions of the country. According to the latest census, 138 million people speak Russian. 
Russian is widely believed to be one of the most difficult languages to learn. This is mostly true if you have no knowledge of other Slavic languages (e.g. Bulgarian or Czech). The grammar rules in Russian are very complex and have numerous exceptions. In addition, many learners struggle with pronunciation – the stress in words is largely unpredictable and not marked in writing, while there are multiple homonyms. In the Russian language, you also need to distinguish between the so-called 'hard' and 'soft' sounds.
Let's discuss in detail why Russian is considered as a difficult language to learn:

Verbs and conjugation

– There is a standard, unchanged form of a verb called the infinitive; it equates to the English "to verb". In English, we have a very simplified form of verb conjugation; we say "I run," "we run," "they run," but also "he runs." In Russian, you'll be changing the ending of a verb to match with one of six different pronouns. The Russian system is more complicated, but follows the same general principle; the ending of a verb always changes to "match" the subject of the verb.

Pronunciation

– The Russian alphabet can be a bit infuriating for a beginning student in that it uses a mixture of characters familiar to us with the same sounds characters with familiar shapes but unfamiliar sounds and characters that have no English Equivalent. The first hurdle an aspiring Russian speaker has to overcome is learning to distinguish between these characters and not mix them up with their Latin alphabet counterparts. Russian is (for the most part) a phonetic language, and once you figure out the sounds of the letters reading is relatively simple. The best practice for reading and speaking correctly is listening to native speakers and imitating them. The difference between a good Russian accent and a great one lies in tiny details that are best learned by repetition.

Cases

– Cases are arguably the most difficult part of Russian. Similar to verb conjugation, it involves changing the end of a word depending on its relationship to other words in a sentence. However, it's considerably more complicated. The use of cases, for all intents and purposes, makes word order nearly irrelevant in Russian grammar. The tricky part comes in mixing cases with gender. There are six cases in Russian, each used in conjunction with different prepositions or different grammatical circumstances. Each gender (masculine, feminine, and plural) has its own set of six-word endings that correspond to the six cases.
Conclusion:
Russian is, without a doubt, a very difficult language. At the same time, it is a beautiful language that is incredibly rewarding to learn if you're taking the first steps on your journey to becoming a master of Russian. We hope this helps to give you an idea of what exactly is coming. But don't get discouraged; as in everything, give it enough effort, and eventually it will just start to click. 
Good luck!