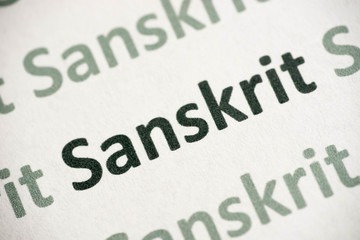 Introduction-
I see people eager to know Sanskrit, people willing to learn Sanskrit because it is a strong source of energy and peace. It's bringing us to a happier life. The mother of every language is the Sanskrit language. In Devanagari and Brahmic scripts, Sanskrit is printed. The Ramayana, Mahabharata and Manusmirti were believed to be the oldest languages in the world, written in Sanskrit. The Sanskrit language's popularity. Currently, the Sanskrit language is used by almost 14000 Indians.
You must make efforts deliberately to build opportunities for yourself to use the language. You have to encourage yourself to leave the comfort area and not to step back. It demands commitment, but it will be valuable.
Age is not a concern to learn a new language, if you genuinely want to adopt a new language or learn a new concept then it is very easy to adapt. Culture and traditions are always the main factors of knowing a new language or in sort adopting a new culture is motivation to learn a new language such as the Sanskrit Language. There are various forms of Sanskrit language which are not easy to remember or to speak, but practice is the key in which we can learn the Sanskrit forms at any stage of our life. No matter what is your age?
The first step to Sanskrit is to acknowledge that it is yet another language. Sanskrit cannot be understood, and it's not too difficult. The problem is that most people don't know or don't care.
Language learning can be achieved very simply, by following these steps:

 

Language books and Wikipedia can also greatly benefit because they have different forms of sentencing. There are extensive online collections of books and Sanskrit Wikipedia is also accessible easily for Sanskrit.

     

Talk to native speakers or language experts extensively whenever you find some time. Properly use it!  Experience is the best educator, and also because of the daily usage of the language they have more experience. And having experience in the Sanskrit language is considered as having experience in one of the ancient godly languages.

     

To understand the rules of the language easier, use dictionaries and grammar books. There are also minor variations in written form and spoken form between languages. It will allow you to bridge the gap.

     

Learn according to your strengths, do not overburden yourself or anyone.

     

Study the language actively through YouTube online courses and videos along with different insightful posts. How interested and concerned you are determining how easily a language can be learned.
Conclusion:
We can conclude that our ancestors have given us a great property in Sanskrit. Sanskrit is thought to be hard to learn, but Sanskrit has a deep connection with our mother tongue which facilitates us learning it.
There is currently a decrease in the number of people speaking Sanskrit. It is a question for us whether we can revive and re-speak Sanskrit or not which depends on people.