Introduction:
Arabic is a Semitic language that first emerged in the 1st to 4th centuries CE. It is now the lingua franca of the Arab world. It is named after the Arabs, a term initially used to describe peoples living in the Arabian Peninsula bounded by eastern Egypt in the west, Mesopotamia in the east, and the Anti-Lebanon mountains and Northern Syria in the north, as perceived by ancient Greek geographers. The ISO assigns language codes to thirty varieties of Arabic, including its standard form, Modern Standard Arabic, also referred to as Literary Arabic, which is modernized Classical Arabic. 
Arabic is widely taught in schools and universities and is used to varying degrees in workplaces, government and the media. Arabic, in its standard form, is the official language of 26 states, as well as the liturgical language of the religion of Islam, since the Quran and Hadith were written in Arabic.
Arabic is the liturgical language of 1.8 billion Muslims, and Arabic is one of six official languages of the United Nations. All varieties of Arabic combined are spoken by perhaps as many as 422 million speakers (native and non-native) in the Arab world, making it the fifth most spoken language in the world. Arabic is written with the Arabic alphabet, which is an abjad script and is written from right to left, although the spoken varieties are sometimes written in ASCII Latin from left to right with no standardized orthography.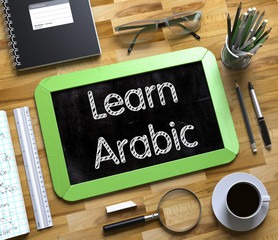 Things that helped me learn Arabic fluently
1)
Reading
:
Reading helps to learn any language easily. There are lots of things available to read online. If you are a book lover (Like me), then it is a cherry on the cake. You can buy books in the Arabic language. If you do not know the basics then you can buy books that help learn the basics of the language. And if not books you can read online, information is available all over the internet.
2)
Listening
:
If you do not know, listen to others who know. I think this is the best way of learning something. Why not listen to people speak Arabic? It will help you learn new things; it will help you with pronunciation and how to frame sentences. Being able to pronounce the letters and words properly is equally important.
3)
Notes
:
I was so fond of the language that I started making notes. Trust me it was worth doing it. It consumed a lot of time and energy, but it was so handy. Whenever I wanted to revise something, whenever I wanted to look into some vocabulary or grammar it was easily accessible. Plus I remembered the things well after noting it down. I enjoyed the process. That is what plays an important role. Love what you do.
4)
Speaking and practicing:
It is not that I had become an expert at the speaking language; it was just that I still spoke. Even if I was wrong I never gave up. I think this is from where I lifted up my fluency level. I had a group of people who were also struggling like me to learn Arabic. We all used to dedicate an hour daily to engage in conversations in Arabic. We used to help each other, correct each other's mistakes. There was a lot to learn from each one. We used to plan assignments according to each person, every person got a different task, some worked on vocabulary, some on grammar, etc., and then we all discussed these assignments together and shared notes and how I achieved so much fluency. We worked hard for it. Searched and learned.
Multibhashi has been the turning point in my life. Even when I know the basics of the Arabic language there was something that was lacking, something which was not satisfying. Then I came across Multibhashi, where I was provided with an expert Arabic trainer to help me fill the voids. They helped me achieve my level of satisfaction. Today, I can speak Arabic fluently. I am so happy to have taken the best decisions of my life. 
6)  Mandatory for work :
They're not escaping from learning the Arabic language when it is mandatory for the employees to speak Arabic. In this case, you have to help yourself to stay motivated while you are in the process of learning the Arabic language and when you speak the language very often, you will eventually start to speak Arabic fluently. 
7) When your Friend is Arabic:
There's nothing like the love that drives people crazy. It's even crazier when you actually start learning the Arabic language because you love your friend to that level where you are willing to do anything to show them how much you love them without telling them without having to say. Your friend will be grateful and will encourage you to keep learning also, he/she will be happy to tutor you to help you speak Arabic fluently. 
8) Moving to Arab countries
When you move to Saudi Arabia for your education purpose, you will obviously be surrounded by Arabic people and when you do not have an option to communicate with them but Arabic language, you have to somehow learn the Arabic language maybe with the help of your friend or maybe by taking an Arabic class. It's better when you take the Arabic language class as you will be taught by well-qualified teachers on how you speak, read, write and understand Arabic language.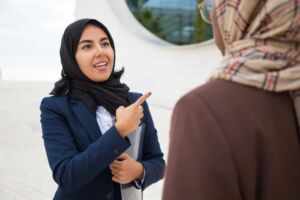 This is the key to perfection, and we can't emphasize it enough. Most learners don't review! If you review and repeat lines again and again, you'll be speaking better, faster, and with more confidence. Anything that inspires you to keep moving forward in something you love to do or what you do will be effective and it will also get you that 100% in your performance.
So keep learning. 
All the best!!!