Introduction
Have you started learning Arabic or are you planning to do so? Let me ask you how passionate you are about learning the language. Only if you are passionate about learning something new or doing something different will you be able to continue with the learning. Let us understand that with different dialects, a completely different writing style and a very different set of alphabet or letters, Arabic is not a very easy language to learn. It might sound very poetic, exotic or beautiful which you appreciate, but there needs to be a very personal reason that motivates you to learn the Arabic language.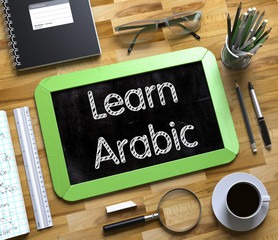 How to get a passion to learn the Arabic language?
People may give you different reasons like career growth, a better mental ability, the ability to understand a new culture, get an insight into the lives of a different community or to understand the holy Quran as their reasons to learn the Arabic language. These are all very valid reasons and may have prompted you to take up learning Arabic. However, unless you are passionately involved in the learning process, these reasons alone might not help you.
Yes, it is very important to have a strong reason to learn a new language. And you can choose to learn Arabic for any of the reasons mentioned earlier or some other personal reason.  Your reason should be strong enough to motivate you to learn this beautiful language passionately.
The sense of achievement you may experience as you learn this language may be a bigger reason than any of the material benefits that you can get out of it.
You could be from an Arab family settled in a non-Arab country and do not really know your culture and roots very well. Learning this language can help you connect with your roots with a deeper sense of understanding.
There could be a lot of stereotypes about Arabs outside the Arab world. Learning this language and the Arabic culture can help you think beyond those stereotypes and develop a deeper sense of cultural tolerance which is essential for harmonious living.
Initially, when you started learning Arabic, you probably were really passionate about it or you just had a good reason to go about it. What makes the difference is keeping that passion ignited throughout your learning process. Staying motivated enough is the key for this.
During the initial days of learning, the motivation levels are usually very high. As you move to higher levels of learning which slowly becomes difficult, you may need to find different ways to stay motivated. Setting goals and moving ahead is a very good motivating factor. As you achieve your goals, you become enthusiastic to set higher goals and learn further.  
Stay in the company of like-minded people who are equally passionate about learning Arabic and you are bound to experience the same enthusiasm.
Seek help in the form of reliable learning material, tutorials, interacting with teachers or other students to continue being passionate about learning Arabic.
It is important to understand that learning Arabic is definitely not an easy task. It would need commitment in terms of time, effort, and sometimes money as well, perseverance, dedication, and a strong will to learn. It is equally important to understand that it is fine to feel frustrated and demotivated at times when you are unable to make visible progress. However, realizing that these are all part of learning will make it easy for you to keep going to learn this beautiful and poetic language.