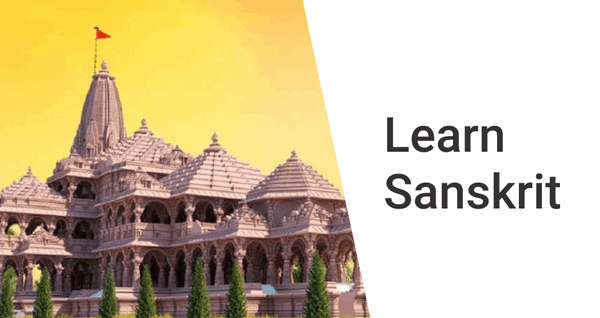 Introduction:
Sanskrit is a beautiful language where we can learn to find our inner peace and be with the almighty God subconsciously. Have you ever thought about what the word Sanskrit actually means? Here is what it means if you haven't known about it. The meaning of the word "Sanskrit" is "Complete". It is a beautiful, mesmerizing yet powerful, resonating language that has a definite organized structure and a rich texture, not many modern languages possess. Sanskrit is the oldest and the most continually used language in the world certainly since the second millennium BC. Sanskrit is regarded as the ancient language in Hinduism, where it was used as a means of communication and dialogue by the Hindu Celestial Gods, and then by the Indo-Aryans. It is also widely used in Jainism, Buddhism, and Sikhism. This language is the mother of all languages. It offers an expansive view of human nature and its role in creation.
WHY IS IT HARD?

Even when the language is hard it doesn't mean that it is impossible to learn the Sanskrit language. Yes, Sanskrit is in fact a difficult language to learn because why? Let's continue reading to find out why the Sanskrit language is hard. Firstly, one of the reasons for Sanskrit being limited to a small circle of people was the narrow outlook of pandits. They never allowed the language to reach the common people. So, India today does not have Sanskrit as its first language and it simply makes it hard to learn the language. Secondly, after the British arrived, Sanskrit lost its royal patronage and since Sanskrit was never a commonly spoken language, it lost its prominence. There are so many people who would proclaim it a dead language. The study of Sanskrit may become difficult if the learning process is based only on understanding and remembering dry grammar rules and their application in translation exercises – what we can call "grammar-translation-method". It is mainly due to the fact that it has not been taught properly and that has something to do with the wrong notion that it is not a spoken language. Sanskrit is highly infected and the grammar is completely different from Hindi. 3 gender nouns (Masc (pullinga), Fem(strilinga), Neuter(napunsakalinga), 3 persons (1st (prathama purusha), 2nd (madhyamapurusha), 3rd(uttamapurusha), 3 grammical numbers (Singular (ekavachana), dual (dwivachana), plural (bahuvachanana). 8 noun cases: Nominative, accusative, instrumental, dative, ablative, genitive, locative, vocative. Yes, it is indeed time consuming to learn the Devanagari script. The orthodox period of training in the tradition is of 12 years and this is one reason makes it harder to learn the language.
CONCLUSION

Today's generation is not educated to the level where they can understand that the Sanskrit language is a treasure chest that contains a thorough investigation into philosophy, mathematics, and sciences. Eventually, we tend to forget the presence of those who are gone but memories linger and we move on with our lives. Same way, Sanskrit is still a living language but we start to forget it even exists and that is one main reason that makes it difficult to learn the Sanskrit language.