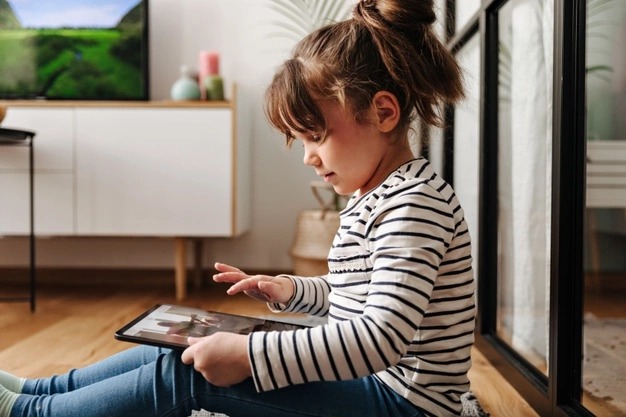 The global pandemic has drastically changed the way students are learning worldwide and thus distinctive online learning has taken place. Students from all around the world have suddenly shifted from classroom learning to online learning and some are even wondering whether such change will continue even after the global pandemic is over.
Online education may not be all that great for little children
But every coin has two sides. And although e-learning provides many benefits, it can have plenty of disadvantages too.
Imagine a little child struggling to learn to write alphabets or a 6th-grade student who got recently introduced to variables such as x,y, and z. How do you imagine their mental state to be? 
Of course, they will be confused!
Even educated adults when they learn something new can get flustered and confused, let alone little children. Add online education into the mix and you get a big bucketful of confusion. 
A small child who used to go to class every day used to run around in the playground with his merry friends was one day suddenly pulled out of class and made to sit in front of a screen. It became increasingly difficult to understand the lessons and he always had a ton of doubts but most of them were not cleared up. Then came everyday headaches and vision problems due to prolonged usage of screen. He misses the simple pleasure of sharing his lunch with his friends. 
Since online learning also limits making friends, the child will also not have someone of his age to whom he can confide in. Moreover, online learning uses technology that can be difficult to operate for little children.
Not only confusion, but the child can also suffer from far more disastrous ailments which affect both his physical and mental health because of these problems.
Role of parents:
That's where the role of parents comes in. In the current scenario, due to covid-19, it is not possible to go to offline classes hence online learning is the only solution. So, parents have to give more focus to their children and see whether they are comprehending the lessons properly or not.
They also have to ensure that their child is getting proper exercise and is active throughout the day with getting proper amounts of sunlight to ensure vitamin D.
It is the parent's responsibility to care for their loved ones and ensure that they are getting everything they need.
Conclusion:
The best-case scenario to learn would be a mix of online and offline learning but only after the covid-19 pandemic is over so that there's no risk to the health of children. What are your opinions about this? Do mention in the comments below!