Introduction:
Are you learning German? You may have learned all the basics of German and now you want to gain proficiency in the language. This means you have passed beginner and intermediate level in German and you're also quite fluent in it. So, proficiency in the language or language proficiency or linguistic proficiency means " It is the ability of an individual to use language with a level of accuracy that transfers meaning in production and comprehension. Gaining proficiency in any language means getting a professional certificate that accredits your skills.
If you want to learn German in an efficient way you must follow some steps. Self-confidence, concentration, motivation, are the keys to achieve your goal.
 In this blog, we get to know about various proficiency courses in German to master the language.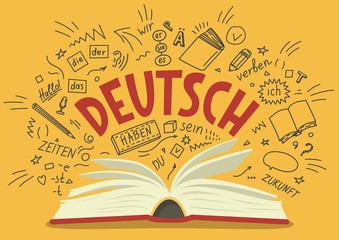 Learning German through courses.

1. Multibhashi 
The word Multibhashi itself is defined as multi means multiple or many and bhashi means languages. Multibhashi is a simplified language learning platform for people. The platform is popular in India even in other countries too. Multibhashi is an app to learn languages in the most effective and innovative manner through the medium of audio-visual training sessions and app-based learning. It is a leader in providing learning solutions in various spheres. The company also offers the German language. Multibhashi has the most professional staff for the German language. 
2. Duolingo
Duolingo is one of the best apps for learning German and probably the most popular one. It is the most used language-learning app worldwide, with more than 300 million users around the globe. It works like a game where you are able to earn virtual coins and unlock new levels as you learn new things. The lessons are fun sorted in a way to improve your listening, speaking, and reading skills. It makes you learn while having fun!
3. Udemy
Udemy is one of the online platforms which you can use to learn this language or any other language. As per their website, they also have a 30 day money back guaranteed
4. Busuu
promises users to learn fast through personalized study plans, speech recognition, and instant feedback. You can set daily goals to advance your language skills. Their support team is available 7 days a week by email, webform, and live chat — the app won't leave you hanging if you have any problems. The app also allows you to practice your speaking skills with native speakers, which is great for getting that daily conversation vibe.
5. Memrise 
This great free app offers a truly unique approach to learning. While on the basic level it is a flashcard application for studying vocabulary, it actually combines a spaced-repetition system with mnemonics to maximize retention.
Spaced repetition means that the app will serve up words you learned earlier right at the moment you are about to forget them. This way it gradually moves the desired knowledge to your long-term memory.
6. iStart
As it turns out, iStart is an appropriate name for this German learning app as it is geared towards people who are at the very beginning of their language education. Consequently the progress inside the lessons is quite slow but offers comprehensive information on the German language.
The app's content is presented in a form that looks a lot like a chat and taught by two German native speakers and a moderator hailing from England. Each lesson is given in both text and audio form and supplemented with visuals.
7. Rosetta Stone 
Of all the best apps for learning German, Rosetta Stone is probably the one with the most name recognition. With a history going back to 1992 it is also the oldest on the roster.
A special characteristic of the Rosetta Stone teaching method is its very immersive approach: You don't learn German by transferring words from English but instead the software uses images, text, sound, and video to teach the new language without any translation.
8. Pimsleur 
Pimsleur is one of the best audio apps with 5 German Levels consisting of 80 hours of listening exercises. Pimsleur is built with 30-minute lessons to do on the go. You will not need to enter words or swipe on the screen; instead, you get to engage with speaking by repeating the words used for the listening exercise. 
Pimsleur is great for anyone wishing to understand the spoken word and improving their speaking skills while still focusing on grammar and vocabulary.
9. Tandem 
Tandem is a language exchange app, that does not provide courses or exercises but instead connects you to another Tandem user, native in German, and with similar interests. The concept is based on chatting, voice messaging, and video calling with native speakers to overcome the fear of speaking German. In exchange, you will teach your mother tongue to your new Tandem partner.
10. Preply
Preply is the most individual language learning platform on our list, as it connects tutors with language learners for 1:1 video call lessons. After signing up, you can choose your tutor based on language, country of origin, specialty (e.g., for beginners or professionals), time availability, and price per hour. Each tutor sets their own price. For a German lesson with a tutor from Germany, the price ranges between 20 and 50 euros.
11. Babbel 
Babbel is the most professional interactive language app with a clean design and no gamification. Before starting your course, Babbel quizzes your level and then places you in the correct course. You can practice all aspects of German with a dialogue trainer and speech recognition and set daily reminders to study 5-60 minutes. For more advanced learners, Babbel provides an entire Business German course, which makes it the best app for advanced German.