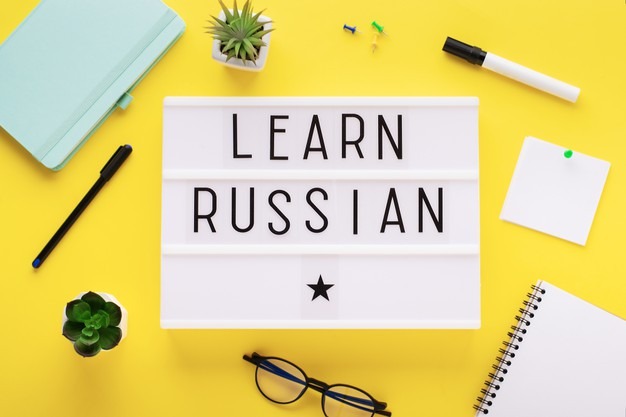 Russian is the cultural language of Russia. Together with Ukrainian and Belarusian, the Russian language makes up the eastern branch of the Slavic family of languages. Russian is the primary language of the overwhelming majority of people in Russia and is also used as a second language in other former republics of the Soviet Union. Russian was also taught extensively in those countries lying within the Soviet sphere of influence, especially in eastern Europe, in the second half of the 20th century. In its sound system, the Russian language has numerous sibilant consonants and consonant clusters as well as a series of palatalized consonants contrasting with a series of non palatalized (plain) consonants. It is one of the world's ten most spoken languages. 
Russian is the official language of the Russian Federation, sharing its official status at the regional level with other languages in various ethnic autonomous regions within the Federation. Russian is one of the six official languages of the United Nations, UNESCO, World Bank, World Health Organization, and many other international organizations. Learning a language is pretty personal. Some of us are visual learners, some of us learn by doing and still, others need solitude to do their best work. If you want to master Russian, it's worth thinking about your own learning style, reasons for learning Russian, and schedule constraints.
Let's discuss some of the best ways to learn Russian verbally:

Use authentic media

: Using authentic media is a fun and useful way to learn Russian quickly. By using audio and video made for native speakers and listening to the Russian language in context, you can more directly apply what you learn to real-world situations. 

Learn common words first:

Learning the most common words first will ensure that you're able to use your Russian skills immediately. Getting fully fluent will still take some more time, but being able to communicate in Russian right off the bat is like getting a running start on the road to fluency. After all, if you know the most common words, you'll be able to hold basic conversations and listen to authentic sources, which will in turn lead to more learning.

Work on Your Russian Pronunciation

: Pronunciation probably isn't the first skill that jumps into your mind when you talk about learning a foreign language. To a certain extent, everyone knows that pronunciation is important because if your accent is really bad people will have a hard time understanding you. However, most Russian learners don't try to improve their accent past the most basic level. Don't be deceived though, being able to correctly pronounce Russian words is a powerful asset in your journey to fluency.

Practice with Native Russian Speakers

: Having real-life conversations with native speakers is hands down the best way to improve your Russian speaking skills. Learning grammar and vocabulary is of course important too (after all you can't speak Russian if you don't know what to say). You see, knowing Russian is one thing. Speaking it is quite another. Your Russian speaking skills are just that…skills. Much like riding a bike or playing the saxophone, you have to practice before you become proficient.

Use a targeted program

: There are a number of targeted learning programs that promise fast results. When used in combination with authentic learning materials, targeted programs can be a helpful way to put your learning into overdrive. One such program is offered by Multibhashi Lessons Learning Solutions. You can schedule a demo session and if you like it – continue with it.
Conclusion:
Russian fluency is an admirable goal, but it's also not an easy one. There's a long road between being a beginner and becoming fluent. However, that doesn't mean that you can't start speaking Russian along the way. Yes, you might not be fluent yet, but if you follow these tips you should be able to start effectively expressing yourself in Russian sooner than you thought!
So, the above provided all terrific ways are the best to practice your Portuguese listening skills.
ALL THE BEST!!