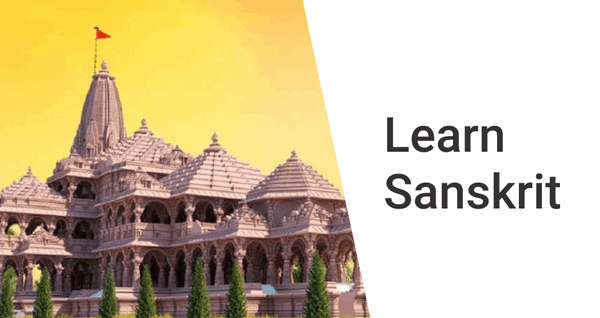 Sanskrit is considered to be a rich language in terms of literature, ideas, thoughts, meanings, and values. Sanskrit is the oldest and the most continually used language in the whole world. The Sanskrit language holds impeccable credentials as knowing the perplexing grammar of this language gives us profound insight into language structure in general. It is also considered an Indo-European language. Many of the English words are related to Sanskrit words and their forms also exist in the Sanskrit language. Its study illuminates their grammar and etymology. Learning Sanskrit introduces one to vast epics, rich scripture, philosophy, immense mythology, exquisite poetry, and much more. There are many more benefits, however, the most sensible and practical value of learning Sanskrit lies within the undeniable fact that it trains the mind to think logically, brings a clear picture of expression, develops one's intellectual strength, and provides deep insight into the meanings of the words. 
Is Sanskrit Tough To Learn?
Most of the learners of the Sanskrit language have the desire to be proficient enough or even just want to learn how to read and write it. But Sanskrit is not, "that easy" language to learn, especially when you don't have the ideal resources for learning this language. But you need not worry about the part of learning Sanskrit as there are varied resources available. Some people who like to study independently, favor conventional textbook learning or Sanskrit tutoring services whereas others select options like learning through an app. 
Another approach is to learn a language online. Online categories offer live one-to-one or webinar sessions. They are self-paced sessions that you can complete, being in your comfort zone and on your own. You may discover the best online Sanskrit learning class options which may most closely fit your requirement. There are ways that can help you in learning Sanskrit, especially verbal Sanskrit.
There are many web-based resources available to make you learn Sanskrit. As it's known that studying online is one of the best ways to learn anything, not limited to only learning a language or an accent, but also learning to solve difficult math problems or be it cooking, dancing, or even fixing your gadgets tech tools. Thanks to the innovation of modern technology, you can learn Sanskrit online, too!
Multibhashi: The Answer To All Your Language Problems!
i) Multibhashi:
It provides a one-stop solution to all kinds of ways one would want to study Sanskrit. It offers both one-to-one and webinar session options. One can select based on their requirement for learning Sanskrit. Multibhashi offers you regular practices of the concepts taught and regularly reminds you when it's time to review what you've learned.
ii) Learn the Sanskrit Language: 
This website aims to spread the sacred, divine, and rich knowledge of Sanskrit to the world. They have a qualified team of  Sanskrit teachers who have the intention to inculcate and redevelop the decreasing tradition and enigma of the Sanskrit language to online readers. This website offers Sanskrit online learning courses and contains a compact as well as an extensive and explained form of content on various aspects of Sanskrit language right from the grammar to countings/numbers to the history of the origination of Sanskrit. Learning through this platform provides a good base for learning basic Sanskrit online.
iii) Enjoy Learning Sanskrit:
This resource aims to help in promoting the learning of the Sanskrit language. It offers learning and teaching tools in learning the very basics of the Sanskrit language and they are all free! The tools are easy for both children and adults, which makes learning Sanskrit a fun hobby to do. The website continues to add more lessons and materials in a gradual manner. Currently, the site has the tools available for learning the alphabet, pronunciation, reading, writing, typing, and other basics in learning the language.
iv) The Sanskrit Language – Guided Sanskrit Lessons:
This portal intends to make a learner study along with the book "The Sanskrit Language" by author Walter Harding Maurer. This way of learning is great for self-studying at home with complete resources — this book and this portal.
This website has this book available in a form of a complete summary of each lesson of the book, answers to the exercises, as well as additional notes and tips. The most effective way to study side-by-side is to first read the lesson in the book (available for online purchase) and then read the lesson on the website. The website focuses upon and lets you understand more Sanskrit grammar. All you need to do is to buy that book and open this website to learn.
v) Acharya: Learn Sanskrit Through Self Study:
The Acharya Website is an important and useful tool for learning Sanskrit through self-paced study on your own. The lessons are presented uniquely and conveniently to make it easy for learning Sanskrit. Also, the pages on the website carry interesting information pertaining to the language Sanskrit, which is not widely known outside India. The lessons are aimed to give the learner a good introductory start to Sanskrit. We know how much self-studying is sometimes frustrating and boring. For that matter,  the lessons in Acharya are related to the daily routine activities in our lives, such as everyday talk or conversations which are all free!
Conclusion:
Many of the learners are most interested in learning spoken Sanskrit. Sanskrit scholars who are in India quite often converse in Sanskrit among themselves. To get the taste of this spoken scholastic Sanskrit, It is recommended to go by the set of lectures given by Prof. Arindam Chakrabarty – an introduction to Western philosophy for Sanskrit Pandits in Tirupati. Some of these are available on YouTube. 
Despite all of this, the spoken Sanskrit language is in fact a really so much a far cry from any of the mother tongues in terms of its communicative expression. It's similar to the approach that Latin was spoken till quite recently in Europe, among students/scholars.
Learn this beautiful contextual language as aptly said,
"If I was asked what is the greatest treasure which India possesses and what is her finest heritage, I would answer unhesitatingly — it is the Sanskrit language and literature and all that it contains."
-By Jawaharlal Nehru, First Prime Minister of India