Pencil
Pencil grip is one of those items which is very difficult to grasp and somehow children understand it wrong initially. Though each child will ultimately find the best pencil grip for him or her, starting with the traditional "tripod" grasp (pinching through the thumb and index finger while balancing on the middle finger) is a great place to start. While struggling with five- and six-year-olds who don't know they're left from their right, let them alone identify how to separate their fingers into different places, this may seem nearly impossible.
Using a pencil and letter formation can be tough for any children who might face challenges with motor skills and writing problems. Here are some tips to help your child build these qualifications.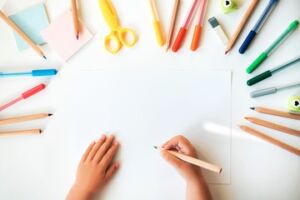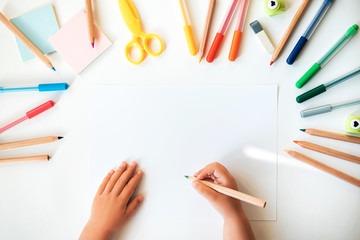 Tips and Tricks to use pencil for any kid:
1. Get a perfect grip on the pencil.
A grasp on the pencil will enable your child to adequately hold a pencil. The kind of grip that looks like a gross blob with fingerprints in it, but you can do your own too. Roll a ball with a piece of clay about an inch and throw down the tip of a pencil and force up the clay inch. Keep your crayon as if you were writing and press your thumb and fingers into the clay to form the indents.
2. Using Golf pencils.
Recommend purchasing golf pencils to make the children understand when they start learning to write. These are the small pencils of golf courses and bowling alleys that you will see. Their size enables keeping and balance correctly for small hands. Where golf pencils cannot be found, that's okay. A broken pencil might work, part of a crayon or even the short remaining part of the well-used pencil will be valuable for any children.
3. Using of shorter pencil
A shorter pencil provides less space for excessive finger clamping. It forces children to pinch their thumb and index finger. This is why the famous Handwriting Without Tears curriculum uses its own brand of short pencils, but the golf pencils also work well. That is also why professional therapists also use partially bent pencils if they find it difficult to understand a suitable age.
4. Do regular Pinch and Flip to have coordination
If shorter pencils aren't working for your kids, show them how to "pinch and flip." Simply pinch the pencil's sharpened end and turn it around until it lies in the ideal position in the "webspace" (the fuzzy skin surrounding your thumb and index finger).
5. Try to hide something in between the last two fingers
If the "pinch and flip" and shorter pencils don't work, allow students to cover anything between their pinky and ring fingers. The thumb, index, and middle fingers are required to do all of the jobs as these two fingers bend towards its palm. However, some children struggle with this because they are unable to "separate" the 2 sides of their hands. That'll be taken care of by this trick. It doesn't matter what they hide between their last two fingers as long as they can do so easily without their fingers swollen out of their hand due to the item's size or having to grip too tightly due to its size. It is recommended to use a small rubber ball, cotton ball, or crumpled piece of tissue paper, etc.
6. Using Raised paper lines and textured surfaces.
Sometimes when children write, they don't feel that they make letters. It can improve with the use of raised paper lines and textured surfaces. Children may add a textured surface to a twisty paper, such as sandpaper or a rough plastic sheet. If you want to feel the lines with your pencil, ask your teacher or use large ruled notebook paper. Follow lines and let them dry using fabric paint or school glue. When your child writes, the pencil "bumps" the lines.