Sanskrit
Sanskrit is one of the 17 official languages in India and is considered sacred by many peoples, the word "Sanskrit" itself means "sanctified."
In yoga classes, they use a handful of Sanskrit words. To learn Sanskrit, start with the sounds that are made by each of the letters of the Sanskrit alphabet. Then you can expand your vocabulary and enrich yourself with the beauty of this classical language.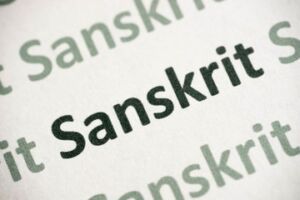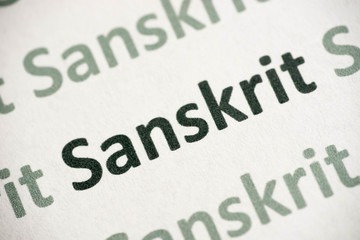 9 ways to make your self fluent in Sanskrit:
1. Start with the fundamental vowels 
There are 5 fundamental vowels in Sanskrit. However, the fifth is rarely used. The basic 4 fundamental vowels are a, i, u, and ṛ. Start to learn this vowel at first, as we have a, e, i, o, u vowels in English.
2. Long vowels
These short vowels can be made longer by drawing out the pronunciation. There will be differences in the sound of long and short vowels, much like long and short vowels in English.
3. Progress to compound vowels
The fundamental vowels are "weak" vowels in Sanskrit and when you combine two weak vowels, you will get a strong or medium vowel. Strong and medium vowels are pronounced twice as long vowels. This will progress you to compound vowels.
4. Organize consonant sounds
Vowels are the sound of the breath, and consonants represent a stoppage of breath. When you pronounce Sanskrit words, you will stop the breath at different mouth points to form the consonant sounds.
There are five pronunciation points in Sanskrit related to your mouth where the airflow is stopped: the soft palate is present at the back of your mouth, and the hard palate is present at the top of your mouth, the hard bump behind your teeth on the roof of your mouth, your lips, and the base of your teeth.
5. Continue your lips to produce lip consonants
Lip consonants are the Sanskrit consonants that do not use the tongue at all. Instead, you will stop the flow of air by pressing your lips together. The sound produced is the same as the sound you produce in English with consonants such as p and m.
Alphabets in Sanskrit are organized logically by the vowels first, which are followed by the consonants, grouped together according to their points of pronunciation and when naming a Sanskrit consonant, you need to add the vowel a to the end of i simply.
6. Reduce the airflow to create s sounds. 
3 different letters produce an s sound in Sanskrit, in which each letter has a different point of pronunciation. When creating an s sound, reduce airflow rather than stopping; these letters are considered consonants and not as semivowels.
7. Greet politely by namaste
Sanskrit is considered a sacred language, and this is the language to communicate with each other. When greeting someone and when departing from their presence, and at any time of day, Namaste is used.
The word namaste means "the divinity in me bows to the divinity in you." It is accompanied by a physical bow or nod of the head.
8. Mind your manners when speaking in Sanskrit. 
Always be with politeness; this shows respect for the other person and the sacred language. Dhanyavaadaha is a word used in Sanskrit to say to others "thank you." This should be done as often as possible.
Suppose someone thanks you, respond to them with susvaagatam. In that case, that means as "you are welcome.", chintaamastu means "no worries.", kshamyataam means "excuse me" or to get someone's attention, and Krapayaa means "please."
9. Read sacred textbooks written in Sanskrit. 
The Digital Library of India has at least 34,000 texts in Sanskrit. These digital files are available for free download at https://sanskritdocuments.org/scannedbooks/