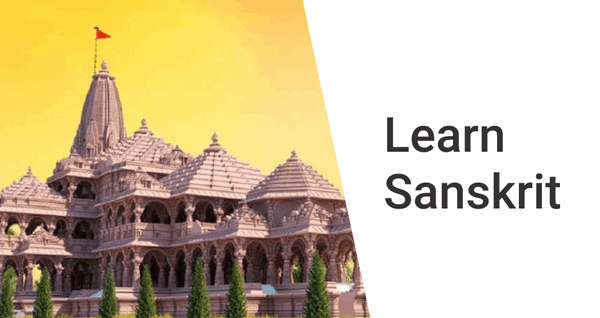 Introduction:
Sanskrit is a classical language of South Asia belonging to the Indo-Aryan branch of the Indo-European languages.  It arose in South Asia after its predecessor languages had diffused there from the northwest in the late Bronze Age  Sanskrit is the sacred language of Hinduism, the language of classical Hindu philosophy, and of historical texts of Buddhism and Jainism. It was a link language in ancient and medieval South Asia, and upon transmission of Hindu and Buddhist culture to Southeast Asia, East Asia, and Central Asia in the early medieval era, it became a language of religion and high culture, and of the political elites in some of these regions. As a result, Sanskrit had a lasting impact on the languages of South Asia, Southeast Asia, and East Asia, especially in their formal and learned vocabularies.
How can my life become better by learning Sanskrit?

Sanskrit is an ancient Indian language that is a huge part of India's culture. Sanskrit is centuries old, with similarities to old Latin and Norse languages as well! However, unlike these languages, Sanskrit is very much alive today. This ancient Indian language has proven to be of use to us time and time again. There is a lot to uncover when it comes to the Sanskrit language. The benefits of learning Sanskrit are many, but we've listed the top five for you!
1. A Repository of Knowledge
The ancient Sanskrit language holds much knowledge about society and the universe. Several subject matters are written in-depth in the language. The importance of learning Sanskrit can be discussed with the amount of knowledge the language has to offer. From botany, biology, grammar to religion and astronomy – the language has texts written in a horde of subjects.
It is a myth that most texts written in the Sanskrit language are religious. In fact, there are actually a lot more non-religious texts written in every subject you can possibly imagine!
2. Versatility
The Sanskrit language has a range of words to express a single object. There are over 200 words to signify just 'water'! Sanskrit words are made of root words that have meanings of their own. Due to this, one could quickly grasp the surface meaning of the words in seconds, but take years to deduce the layers of meanings a few words hold may take ages. Similarly, a combination of root words and sounds can make up infinite words with stable meanings. This just means unlimited space for free, clear expression.
3. Health Benefits of Learning Sanskrit
The benefits of learning Sanskrit are multiple! Here's a neat trick -reciting out the Sanskrit alphabet can be beneficial for your health! The way this works is, reciting the Sanskrit alphabet results in you rhythmically using minimal and maximal breath, contraction, and expansion in your breathing efforts. This system is a pranayama practice in itself. It aids in balancing and calming the mind. We bet no other language could do that!
4. Incredibly Easy to Learn
Sanskrit is incredibly easy to learn. Learning most languages, including English, requires you to learn the correct words first, and then stress over sentence construction. However, in Sanskrit the sentence 'The boy ate dinner' makes as much sense as 'Dinner the ate boy'. Words can be mashed up in any order you desire to make a coherent sentence.
5. Mother of All Languages
A lot of Indian languages like Hindi, Gujarati, and even Punjabi share root words with Sanskrit. Therefore, learning Sanskrit will make learning a whole bunch of Indian languages much easier! Sanskrit is an ancient language that shares a relation with Latin, Old Norse, and a lot of other Indo-Aryan languages. This is why it is also called the 'Mother of all languages. The Sanskrit language is the gateway to learning other Indian languages.
6. A Further View Of The World
Sanskrit literature offers an expansive view of human nature and its role in creation. In this era of unprecedented change and uncertainty, it can be a valuable tool to assess and look afresh at society.
Sanskrit literature embodies a comprehensive map of the human makeup: spiritual, emotional, mental, and physical. Its philosophical literature presents a clearly structured way of understanding our relationship to the rest of creation and lays out guidelines on how to live life well. Playwrights and poets have skillfully crafted the language to offer timeless insights into the human mind.
By learning Sanskrit one will definitely be able to go through the real-time books (Upanishads, Vedas) and surely, the classics of Sanskrit literature like (Abhigyaan shaakuntalam). Sanskrit offers an advantage of comprehending the ancient spiritual and mystic side of the world.
Learning Sanskrit enables us to know our roots, where do we come from, how did our ancestors think, their way of life, and what we can learn from our glorious past. Surely, Sanskrit generates pride in the Indian way of life.
Conclusion:
Shed all your misconceptions about Sanskrit behind! 
Start unlocking the key to ancient and future knowledge by learning Sanskrit. Multibhashi's Sanskrit module teaches you language alongside the culture associated with it! The app also hosts regular group and one-to-one sessions with top Sanskrit tutors from the country. Multibhashi app is available on the ioS and Play Store.
Start learning and experience all the benefits of learning Sanskrit yourself! 
Good Luck!!!